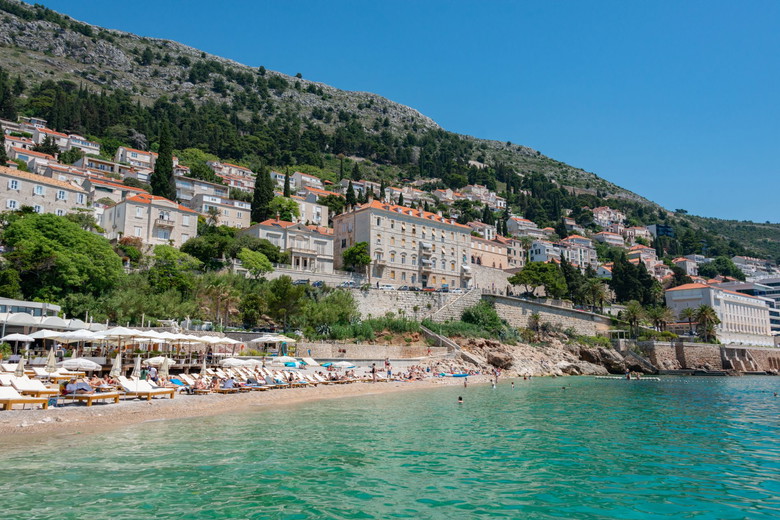 Discover the beauty and charm of Croatia's Dubrovnik with our comprehensive travel guide. From ancient city walls to stunning beaches, immerse yourself in the rich history, culture, and breathtaking landscapes of this Adriatic gem. Find the best attractions, local cuisine, accommodation options, and insider tips for an unforgettable experience in Dubrovnik.
Dubrovnik, known as the "Pearl of the Adriatic," is a breathtaking city located on the stunning coast of Croatia. With its rich history, architectural wonders, pristine beaches, and vibrant cultural scene, Dubrovnik is a dream destination for travelers. In this comprehensive travel blog post, we will delve into the cultural and historical aspects of Dubrovnik, explore how to get there from different parts of the world, showcase the top attractions and landmarks to visit, highlight the local cuisine and dining experiences, suggest the best time to visit, provide accommodation options for various budgets, and offer practical tips for an unforgettable trip.
The Cultural and Historical Heritage of Dubrovnik
Dubrovnik boasts a fascinating cultural and historical heritage, with its Old Town designated as a UNESCO World Heritage Site. Explore the magnificent city walls, stroll along the Stradun (the main street), and visit historical sites such as the Rector's Palace, Sponza Palace, and the Franciscan Monastery. The city's rich history is evident at every turn.
Location and How to Get to Dubrovnik
Situated on the southern coast of Croatia, Dubrovnik offers excellent accessibility from various parts of the world. Here are the transportation options:
By Air: Dubrovnik Airport, located approximately 20 kilometers from the city center, serves domestic and international flights. Major airlines operate direct flights from European cities, making it easily accessible for international travelers.

By Sea: Dubrovnik is a popular port of call for cruise ships sailing along the Adriatic Sea. If you prefer a scenic journey, you can also reach Dubrovnik by ferry from nearby coastal towns and islands.
Top Attractions and Landmarks in Dubrovnik
Dubrovnik is brimming with stunning attractions that showcase its beauty and history. Don't miss these must-visit landmarks:
City Walls: Walk along the ancient city walls that encircle the Old Town, offering panoramic views of the Adriatic Sea and the terracotta rooftops of Dubrovnik.

Fort Lovrijenac: This fortress, perched atop a cliff, offers breathtaking views and is often referred to as the "Gibraltar of Dubrovnik."

Dubrovnik Cathedral: Admire the magnificent Baroque architecture and religious artifacts housed within this iconic cathedral.

Lokrum Island: Take a short boat ride to this enchanting island, known for its lush botanical gardens, beautiful beaches, and the ruins of a medieval Benedictine monastery.
Delights of Dubrovnik Cuisine
Dubrovnik's culinary scene is a gastronomic delight. Sample local dishes influenced by Mediterranean and Croatian flavors:
Seafood Delicacies: Indulge in fresh Adriatic seafood, including grilled fish, octopus salad, and black risotto made with squid ink.

Peka: Try this traditional Croatian dish, consisting of meat and vegetables slow-cooked under a bell-shaped lid, resulting in tender and flavorful dishes.

Dalmatian Prosciutto: Savor thin slices of this air-dried ham, often served with locally produced cheese and homemade bread.

Ston Oysters: Visit the nearby town of Ston to taste the famous oysters, known for their exceptional quality and flavor.
Best Time to Visit Dubrovnik
The best time to visit Dubrovnik is during the spring (April to June) and autumn (September to October) seasons when the weather is pleasant, and the city is less crowded compared to the peak summer months. However, if you want to experience the vibrant atmosphere of the Dubrovnik Summer Festival or enjoy swimming in the crystal-clear waters, summer is also a great time to visit, despite the higher tourist numbers.
Accommodation Options in Dubrovnik
Dubrovnik offers a wide range of accommodation choices to suit different budgets and preferences. From luxurious hotels with stunning sea views to cozy guesthouses and budget-friendly hostels, there's something for everyone. Some popular areas to consider for accommodation include the Old Town, Lapad, and Babin Kuk. It's advisable to book in advance, especially during peak season, to secure the best deals and availability.
-Luxury Accommodation
Hotel Excelsior: A 5-star hotel located just outside the Old Town, offering luxurious rooms and suites with sea views, a private beach, spa facilities, and multiple dining options. Prices start at around $300 per night.
Villa Dubrovnik: A boutique 5-star hotel situated on a cliffside, featuring elegant rooms and suites, a rooftop pool, a private beach, a spa, and stunning panoramic views. Prices start at around $400 per night.
Hotel Bellevue: A 5-star hotel nestled on a cliffside with direct access to a private beach. It offers stylish rooms and suites, a spa, an infinity pool, and a renowned gourmet restaurant. Prices start at around $350 per night.
-Mid-Range Accommodation:
Hotel Lapad: A 3-star hotel located in the Lapad area, offering comfortable rooms, an outdoor pool, a restaurant, and close proximity to the beach. Prices start at around $100 per night.
Hotel Petka: A 3-star hotel situated near the Gruz Harbor, featuring simple and cozy rooms, a restaurant, and easy access to public transportation. Prices start at around $70 per night.
Apartments Dubrovnik Center: A selection of self-catering apartments located in the heart of the Old Town. These apartments offer modern amenities, kitchenettes, and a convenient location. Prices start at around $120 per night.
-Budget Accommodation
Hostel Angelina Old Town: A budget-friendly hostel located within the city walls of the Old Town. It offers dormitory-style rooms, a communal kitchen, and a relaxed atmosphere. Prices start at around $30 per night.
Guesthouse Radic: A budget guesthouse located in Lapad, providing clean and comfortable rooms, a shared kitchen, and a welcoming environment. Prices start at around $50 per night.
Rooms Kazerma: Affordable rooms located in the Ploce area, close to the Banje Beach and within walking distance of the Old Town. Prices start at around $60 per night.
The beaches in Dubrovnik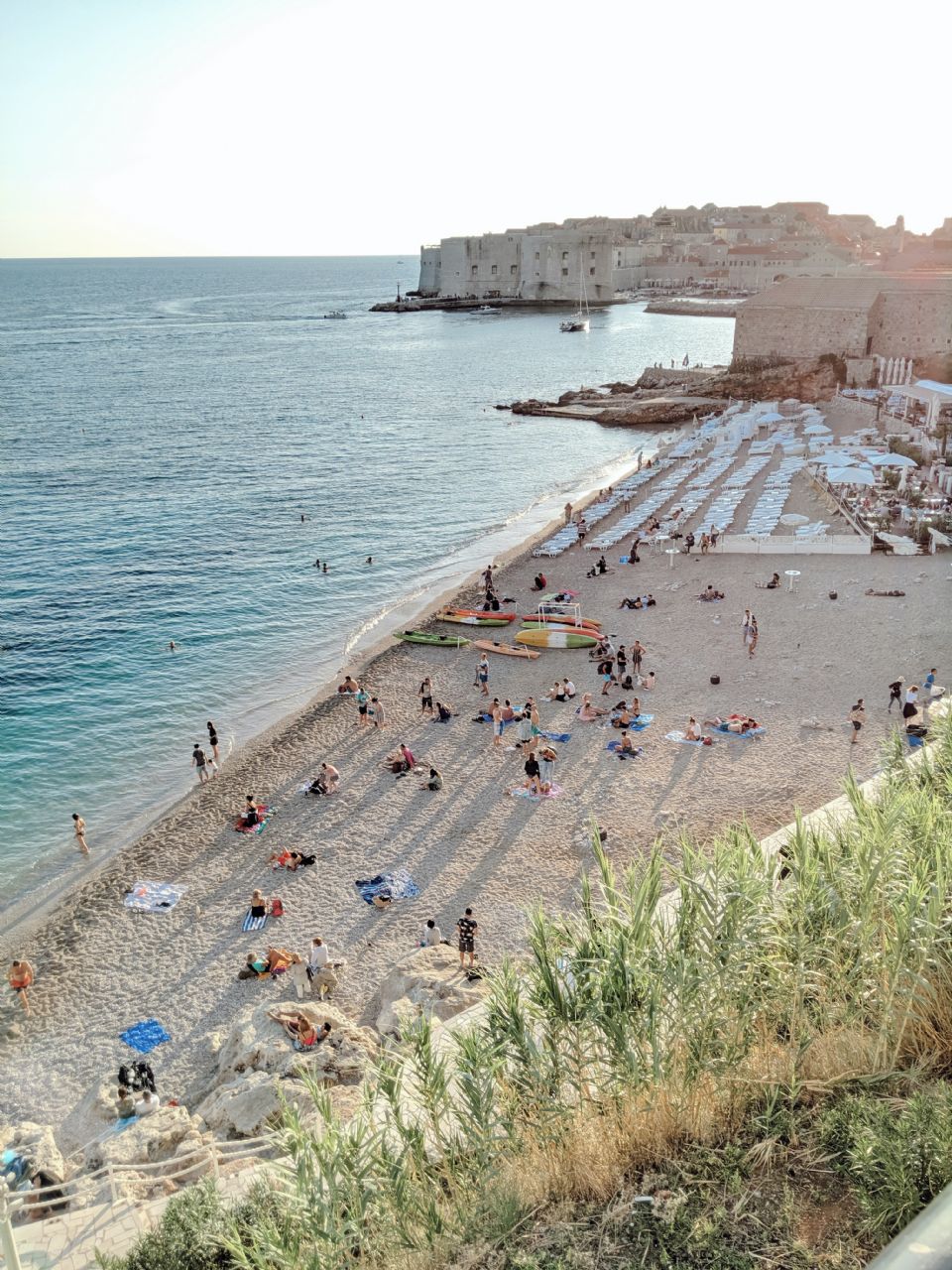 One of Dubrovnik's most famous beaches, Banje Beach is located near the Old Town and offers stunning views. It provides lounge chair and umbrella rentals, as well as restaurants and bars right on the beach.
Located in the Lapad area, this beach is known for its spacious sandy shore and various water sports opportunities. It is equipped with lounge chairs and umbrellas, and beach bars are available along the shoreline.
Offering a unique experience, Buza Beach is situated in a rocky area and provides a breathtaking view of Dubrovnik. Access to the beach is through a small gate in the Old Town. There are no lounge chairs or umbrellas, so it is recommended to bring your own equipment.
This small beach just outside the Old Town offers a peaceful atmosphere. With its clear waters and surrounding natural beauty, it provides a tranquil experience.
Located in the Lapad area, this beach is ideal for families. It features a long sandy shore and playgrounds for children. There are also restaurants, cafes, and water sports facilities available.
One of Dubrovnik's most beautiful beaches, Sveti Jakov is situated close to the city center. It boasts a white sandy beach, turquoise waters, and stunning natural surroundings. There are restaurants and bars located at the top of the beach.
Situated on Lokrum Island, this beach is easily accessible by ferry. It is known for its natural beauty and peaceful atmosphere. It offers lounge chair and umbrella rentals, as well as a beachside restaurant.
These beaches in Dubrovnik provide fantastic options for sunbathing, swimming, and relaxation. Each one has its unique features and offers visitors unforgettable moments. Please check the respective sources for information on entrance fees, seasonal variations, and other updated details.
Unforgettable Activities and Experiences in Dubrovnik
Aside from exploring the city's historical sites, Dubrovnik offers a plethora of activities and experiences to make your trip unforgettable. Consider the following:
Game of Thrones Tour: Visit filming locations from the iconic TV series and immerse yourself in the world of Westeros.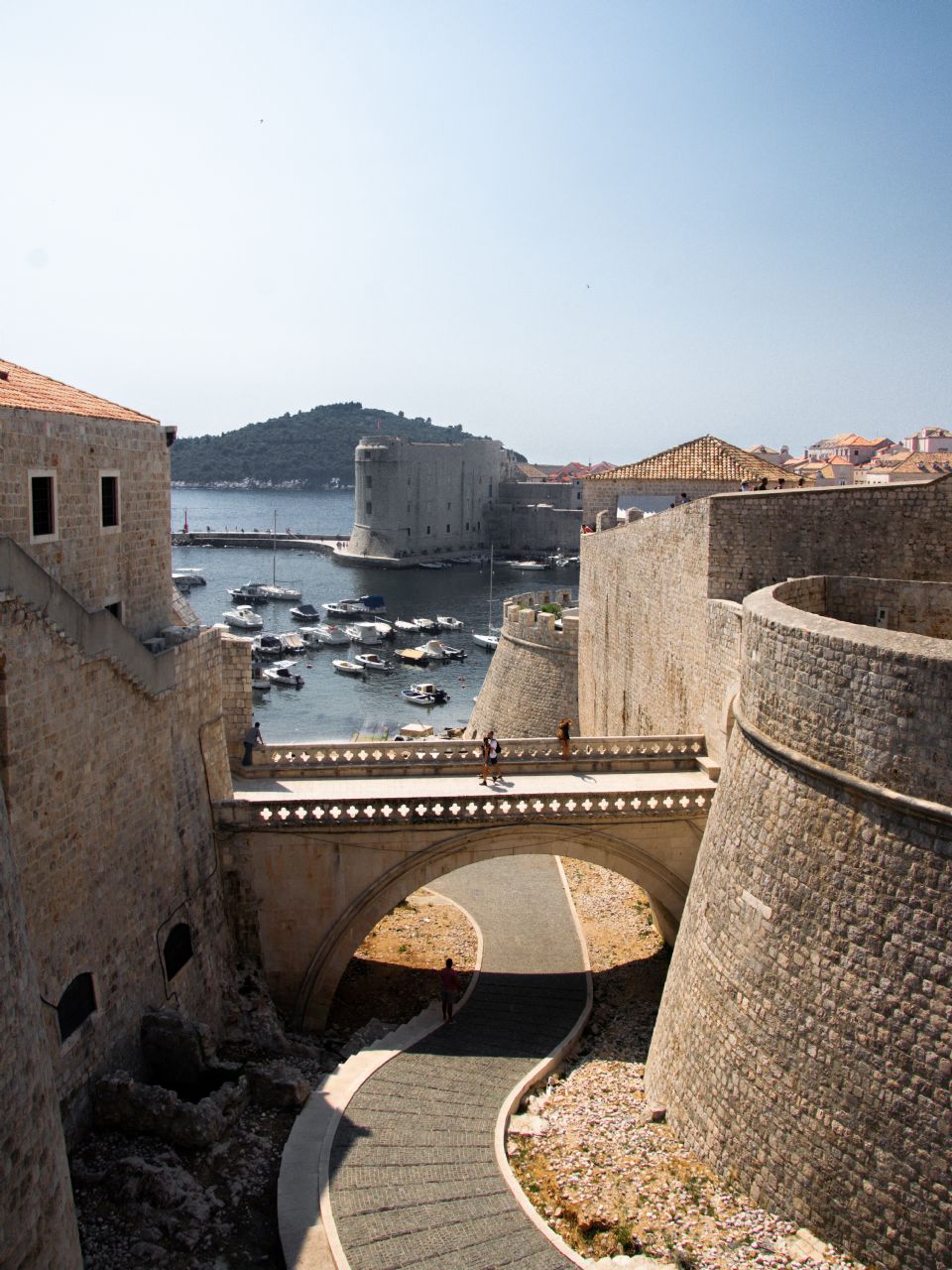 Cable Car Ride: Take a scenic cable car ride to the top of Mount Srd for panoramic views of Dubrovnik and its surrounding islands.

Beaches and Water Sports: Enjoy the pristine beaches and engage in water sports like kayaking, paddleboarding, and snorkeling.

Dubrovnik Summer Festival: If you visit during the summer months, don't miss the renowned Dubrovnik Summer Festival, featuring concerts, theater performances, and cultural events.
Museums and Galleries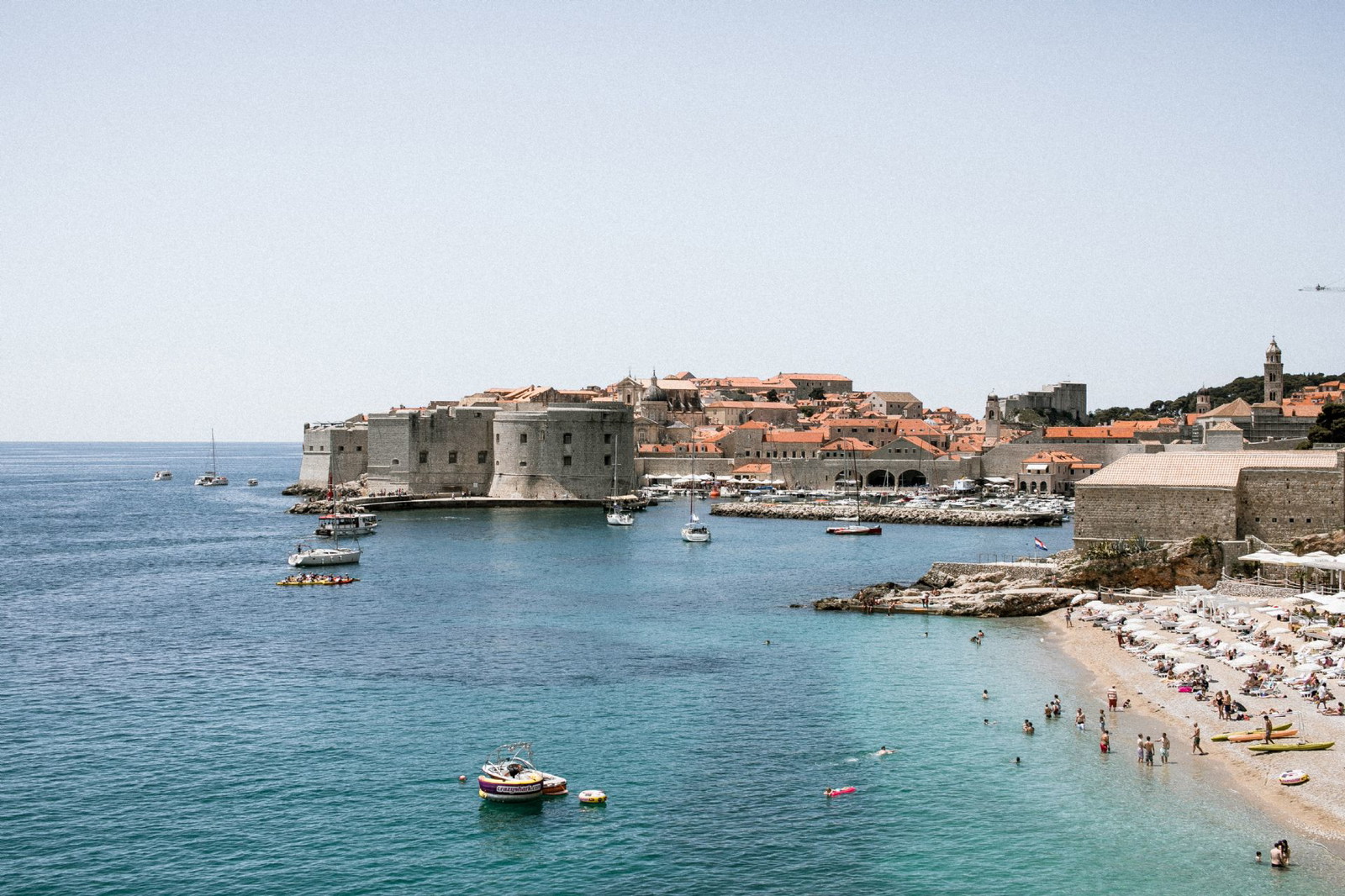 Dubrovnik City Walls and Fortifications Museum
Located within the impressive city walls, this museum showcases the history and significance of Dubrovnik's fortifications. Explore exhibits featuring maps, models, and artifacts that highlight the defense systems of the city. Learn about the construction techniques, historical events, and the role of the walls in protecting Dubrovnik throughout the centuries.
Situated in the heart of the Old Town, the Rector's Palace Museum is a stunning architectural gem that offers insight into Dubrovnik's political and cultural history. Discover the opulent interiors, including the council chamber, the Rector's office, and the impressive atrium. The museum displays artifacts, artworks, and exhibits that depict the city's governance, customs, and traditions.
Dubrovnik Maritime Museum
Housed in the medieval St. John's Fortress, the Dubrovnik Maritime Museum provides a fascinating look into the city's maritime heritage. Learn about Dubrovnik's seafaring history, shipbuilding traditions, and naval battles through a collection of ship models, navigational instruments, historical documents, and exhibits on maritime trade.
This unique museum focuses on the power of photography in conveying the realities of war and conflict. It showcases powerful and thought-provoking exhibitions featuring the works of renowned photojournalists from around the world. The museum aims to raise awareness and promote discussion on the effects of war on individuals and societies.
Located in the Lazareti complex, the Modern Gallery Dubrovnik exhibits contemporary Croatian art. Explore a diverse range of artworks, including paintings, sculptures, installations, and multimedia pieces by both established and emerging artists. The gallery hosts temporary exhibitions that reflect the vibrant and evolving art scene of Dubrovnik.
Situated in a former granary, this museum focuses on the ethnographic heritage of the Dubrovnik region. It offers insights into the traditional culture, customs, and daily life of the local population. The exhibits include traditional costumes, tools, household items, and displays on crafts, folklore, and religious practices.
Dubrovnik Natural History Museum
Discover the rich biodiversity and geological wonders of the Dubrovnik region at this museum. Explore exhibits featuring fossils, minerals, taxidermy specimens, and interactive displays that showcase the area's unique flora and fauna. Learn about the geological formations, marine life, and ecological significance of the region.
These museums and galleries provide a fascinating glimpse into Dubrovnik's history, art, culture, and natural heritage. Each offers a unique perspective and contributes to the rich cultural tapestry of the city. When planning your visit, be sure to check the opening hours, admission fees, and any special exhibitions or events happening at each location.
Dubrovnik, with its fascinating history, captivating architecture, breathtaking landscapes, and vibrant culture, is a destination that will leave you spellbound. From exploring the ancient city walls to savoring local delicacies and enjoying the sparkling Adriatic Sea, every moment in Dubrovnik is filled with charm and wonder. Plan your trip, immerse yourself in the city's enchanting atmosphere, and create memories that will last a lifetime.
Please note that information such as prices, availability, and timings may vary, so it's recommended to check the latest updates before planning your visit to Dubrovnik.