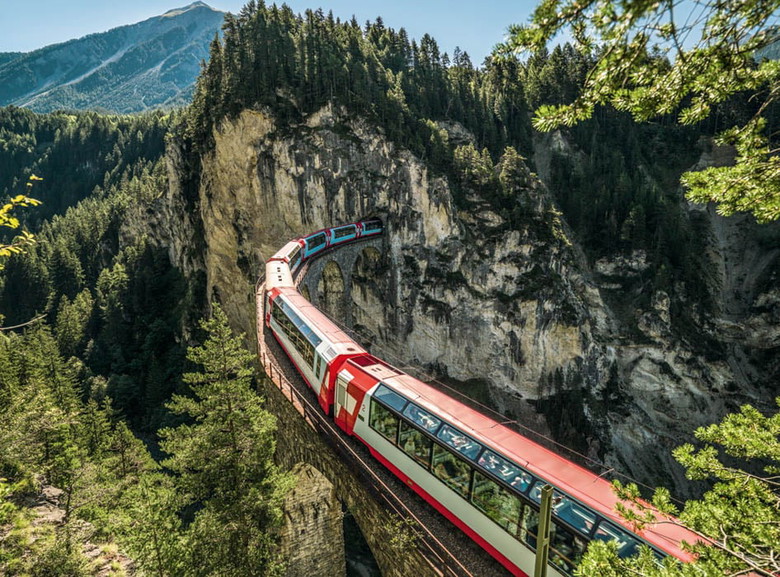 Embark on an unforgettable journey through the Canadian Rockies and explore the stunning beauty of Banff National Park on this train trip.
If you're planning a trip to the Canadian Rockies, taking a train journey through the region can be an unforgettable experience. The scenery is absolutely breathtaking, and traveling by train allows you to sit back and relax while taking it all in. One of the most popular train journeys is the Rocky Mountaineer, which passes through Banff and other stunning locations in the Rockies. In this post, we'll cover everything you need to know to plan your own Canadian Rockies train trip from Banff.
Getting There: Obtaining a Visa
Before you can embark on your Canadian Rockies train journey, you'll need to obtain a visa if you're not a Canadian citizen. Depending on your country of origin, you may be able to apply for an eTA (Electronic Travel Authorization) or a visitor visa online. Be sure to check the Canadian government's website for the most up-to-date information on visa requirements and application processes.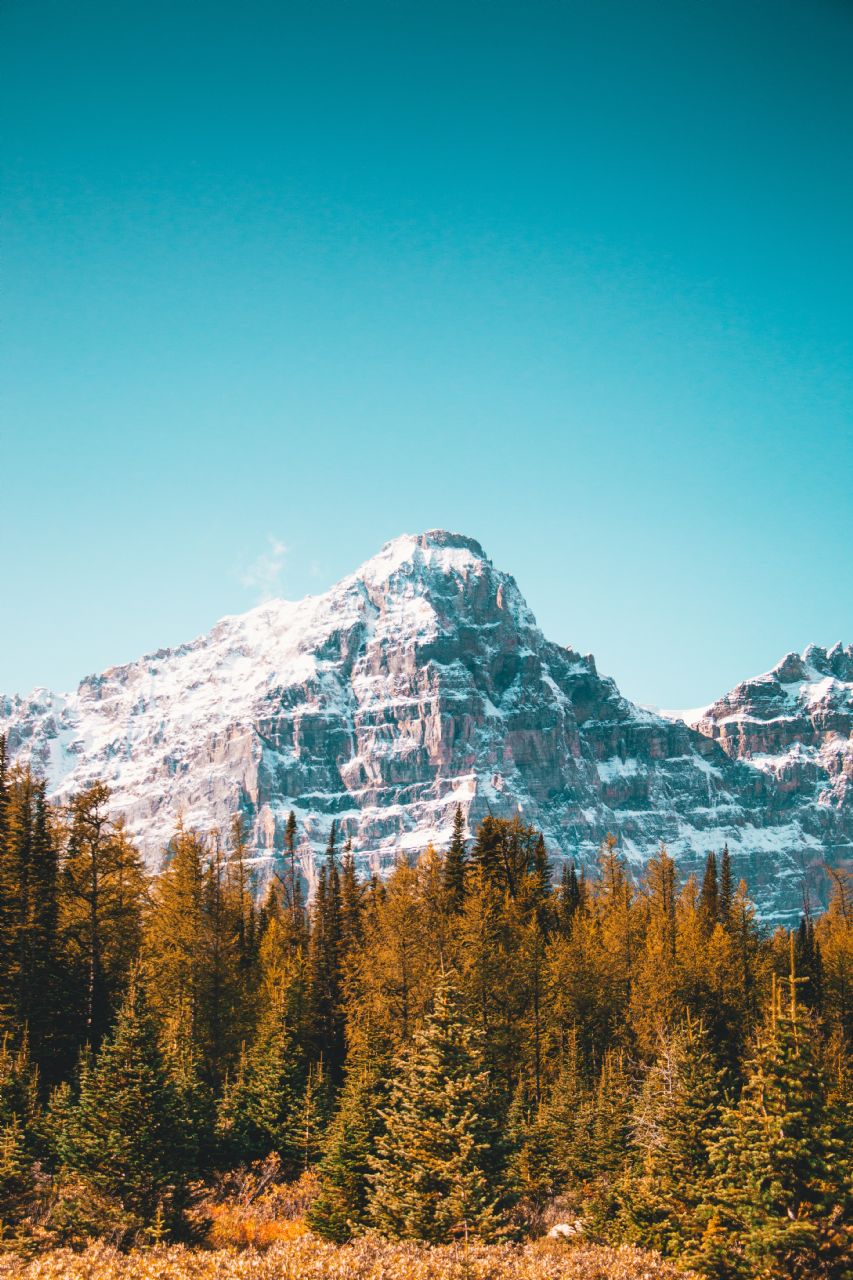 Booking Your Train Tickets
Once you have your visa sorted out, it's time to book your train tickets. The Rocky Mountaineer is one of the most popular train journeys in Canada, so it's a good idea to book your tickets well in advance to ensure availability. The company offers a range of ticket classes, from the basic RedLeaf to the more luxurious GoldLeaf. Prices vary depending on the class of service, but expect to pay at least a few hundred dollars per person for a one-way journey.
If you're looking for cheaper options, consider traveling during the shoulder season (April, May, September, and October), when prices may be slightly lower. You can also look for deals on travel websites or by booking directly with the Rocky Mountaineer during promotional periods.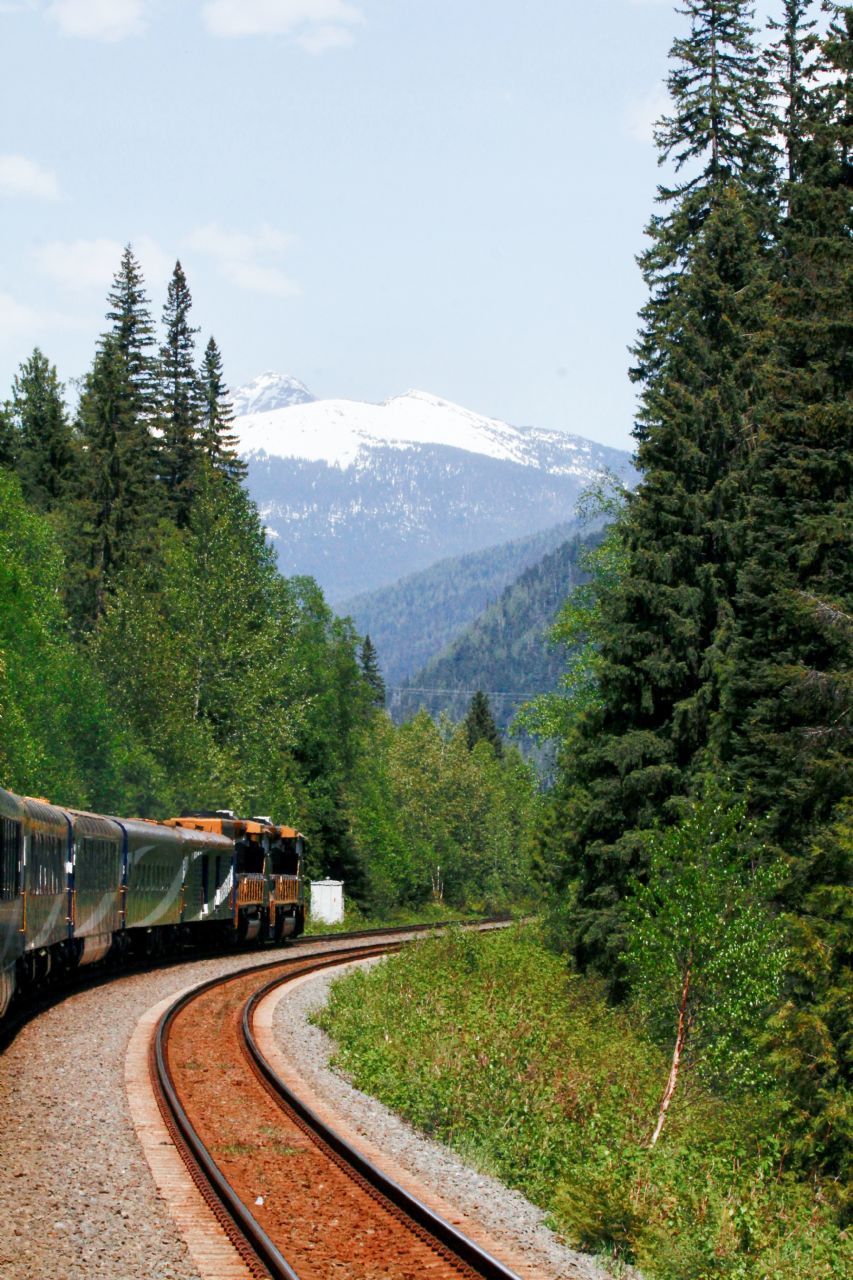 Classes and Prices for a Canadian Rockies Train Trip to Banff
SilverLeaf Class: This class offers comfortable seating with large windows, a glass-dome car, and gourmet meals. The average cost for a one-way trip is around $1,500 to $2,000 USD per person.

GoldLeaf Class: This class provides a luxurious experience with exclusive access to the GoldLeaf Lounge, a private outdoor viewing platform, and fine dining. The average cost for a one-way trip is around $2,500 to $3,000 USD per person.

RedLeaf Class: This class is a more affordable option with comfortable seating, meals, and panoramic views. The average cost for a one-way trip is around $700 to $800 USD per person.

Coach Class: This class offers basic seating and limited amenities, but it is the most economical choice. The average cost for a one-way trip is around $300 to $400 USD per person.
Please note that these are approximate prices and may vary depending on the season and availability of tickets.
The Route: Which Cities the Train Passes Through
The Rocky Mountaineer offers several different routes through the Canadian Rockies, but the most popular one for Banff visitors is the First Passage to the West. This route travels from Vancouver to Banff (or vice versa), passing through Kamloops and several other scenic locations along the way.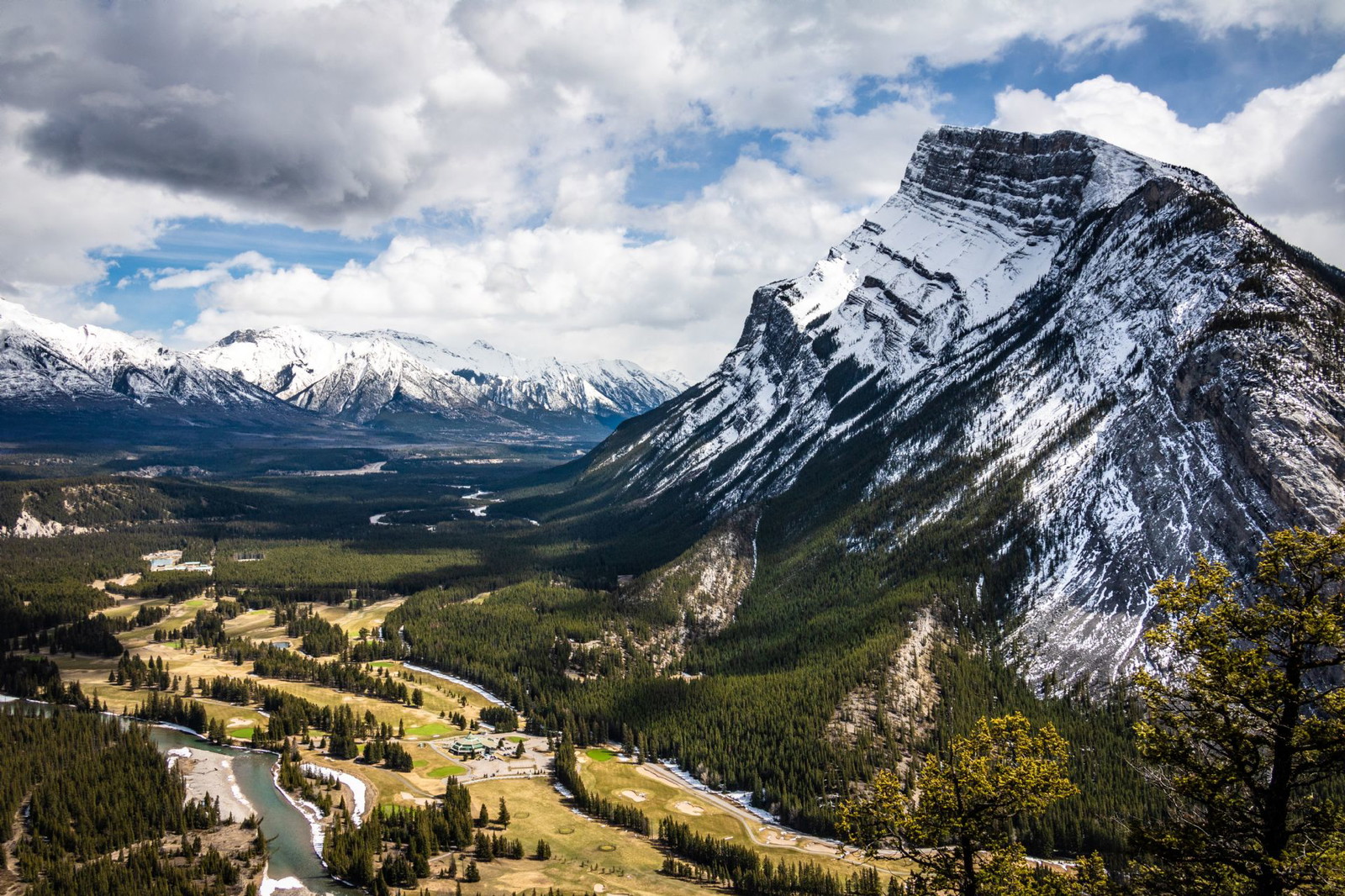 The train journey takes two days, with an overnight stop in Kamloops. You'll have the option to stay in a hotel in Kamloops (included in the price of your ticket), or you can upgrade to a higher-end hotel for an additional fee. The train also makes stops along the way to allow passengers to stretch their legs and take in the scenery.
What to Pack for Your Train Journey
When packing for your Canadian Rockies train trip, keep in mind that you'll be traveling through a variety of climates and terrains. Layers are key, as temperatures can vary widely depending on the time of day and location. You'll also want to bring comfortable shoes for walking during stops, as well as a camera to capture the stunning scenery.
Other essentials include a reusable water bottle (the train has refill stations), snacks, and any medications you may need. While the Rocky Mountaineer does offer meals on board, they can be expensive, so consider bringing your own food if you're on a budget.
Other Things to Do in Banff
While the train journey itself is the highlight of many visitors' trips to Banff, there's plenty to see and do in the town and surrounding area as well. Some popular activities include:
Exploring Banff National Park: This vast park is home to stunning mountains, lakes, and wildlife. Hiking, skiing, and wildlife watching are popular activities.

Visiting the Banff Hot Springs: Soaking in the hot springs is a relaxing way to unwind after a day of exploring the park.
How to Obtain a Visa for Travel to Banff
If you are traveling to Banff from outside of Canada, you will need to obtain a visa. Citizens of certain countries may be eligible for an Electronic Travel Authorization (eTA), which is a simpler and quicker process than applying for a full visa. You can check if you are eligible for an eTA on the Canadian government's website.
If you need a full visa, you will need to apply through the Canadian government's website or through a visa application center in your country. The process can take several weeks, so be sure to apply well in advance of your trip.
Cities and Towns Along the Train Route
The train route from Vancouver to Banff passes through several cities and towns, each with their own unique charm and attractions. Here are some of the highlights:
Vancouver: A bustling coastal city with a thriving food scene, plenty of outdoor activities, and a vibrant arts and culture scene.
Kamloops: A small city known for its hot, dry climate and its location at the meeting point of two rivers. Kamloops is a popular destination for outdoor activities like hiking, fishing, and mountain biking.
Jasper: A picturesque mountain town located in the heart of Jasper National Park. Jasper is known for its stunning natural scenery, including glaciers, lakes, and waterfalls.
Lake Louise: A small village located next to the iconic Lake Louise, which is known for its turquoise waters and stunning mountain views. Lake Louise is a popular destination for hiking, skiing, and other outdoor activities.
Banff: The final destination of the train journey, Banff is a charming mountain town located in Banff National Park. Banff is known for its hot springs, stunning natural scenery, and opportunities for outdoor adventures like hiking, skiing, and mountain biking.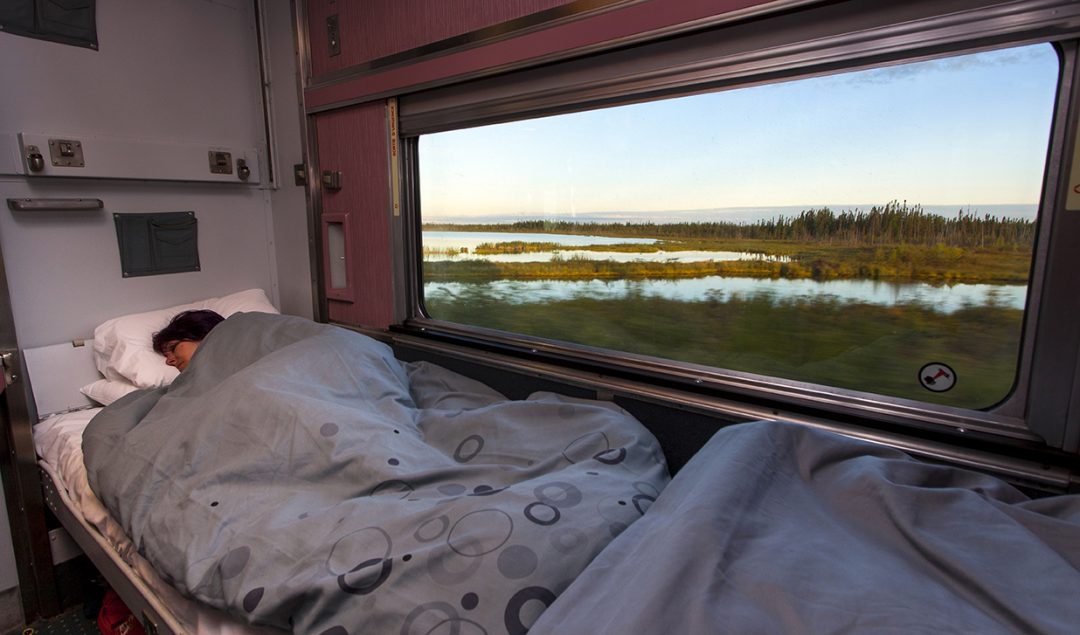 Tips for Finding Cheap Train Tickets to Banff
Train travel can be expensive, but there are ways to find cheaper tickets. Here are some tips:
Book early: Train tickets tend to be cheaper the earlier you book them, so be sure to book as far in advance as possible.
Be flexible: If you are able to travel during off-peak times, you may be able to find cheaper tickets.
Look for discounts: Rocky Mountaineer occasionally offers discounts on train tickets, so be sure to check their website regularly.
Consider a package deal: Some travel companies offer package deals that include train tickets, accommodation, and other activities. These deals can be a good way to save money.
Conclusion
A train trip to Banff is a once-in-a-lifetime experience that offers stunning views of the Canadian Rockies and the chance to explore some of Canada's most beautiful national parks. With a bit of planning and preparation, you can make your trip to Banff a memorable and affordable adventure.