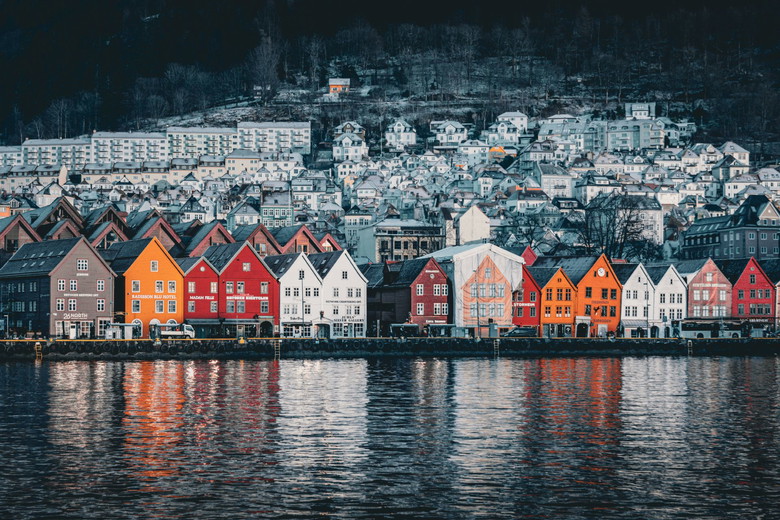 The beauty of Bergen's scenic fjords, Exploring Bergen's rich cultural heritage, Top attractions in Bergen, Outdoor activities in Bergen, Festivals and events in Bergen Bergen's culinary scene Best viewpoints in Bergen Practical tips for visiting Bergen
Nestled amidst the stunning fjords of Norway, Bergen is a city that boasts both natural beauty and a rich cultural heritage. This travel blog will take you on a journey through Bergen's enchanting landscapes, historical treasures, and vibrant local culture. From exploring the picturesque fjords to savoring delicious Nordic cuisine, this guide has everything you need to plan an unforgettable trip to Bergen.
The Beauty of Bergen's Scenic Fjords: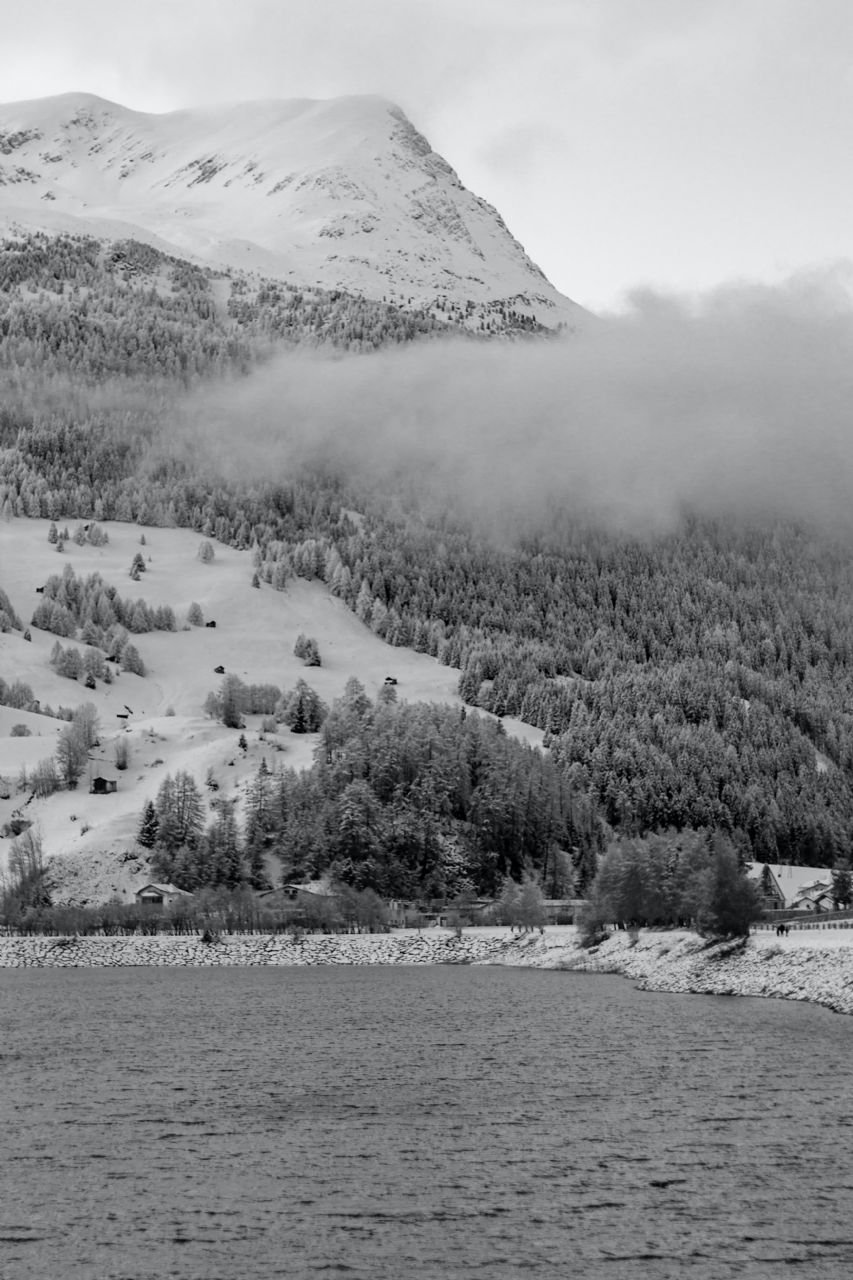 Sognefjord:
Sognefjord is the longest and deepest fjord in Norway and one of the most iconic natural wonders in Bergen.
It stretches for approximately 204 kilometers (127 miles) and reaches depths of over 1,300 meters (4,265 feet).
The fjord is surrounded by towering mountains, including the Jotunheimen and Jostedalsbreen National Parks, which offer spectacular hiking opportunities.
Sognefjord is often referred to as the "King of the Fjords" due to its grandeur and stunning landscapes.
Nærøyfjord:
Nærøyfjord, a branch of Sognefjord, is a UNESCO World Heritage site, known for its narrow, winding passage and dramatic scenery.
The fjord is just 250 meters wide at its narrowest point and is framed by lush green mountains that rise almost vertically from the water.
Nærøyfjord is a popular destination for kayaking and small-boat cruises, allowing visitors to get up close to its pristine waters and charming villages.
Hardangerfjord:
Hardangerfjord is the third-longest fjord in the world and renowned for its fruit orchards, waterfalls, and glaciers.
The region around Hardangerfjord is often called the "Orchard of Norway" due to its abundant apple and cherry orchards.
You can explore the dramatic Vøringsfossen waterfall, which plunges 145 meters (475 feet) into a deep canyon, or visit the Folgefonna National Park to witness glaciers and scenic hiking trails.
Fjord Cruises:
Fjord cruises are a popular way to experience the beauty of Bergen's fjords. Many operators offer various options, from short sightseeing trips to full-day excursions.
During the cruise, you can marvel at the crystal-clear waters, spot wildlife like seals and eagles, and witness the waterfalls that tumble down the fjord's steep cliffs.
Some cruises even offer local guides who share insights into the history, geology, and folklore of the fjords.
Hiking in Fjordland:
Bergen and its surrounding fjord regions provide ample opportunities for hiking enthusiasts.
Popular trails include the "Norwegian Scenic Route Hardanger" and the "Nærøyfjord in a nutshell" trek, both offering stunning views of the fjords and their surrounding landscapes.
Be prepared with proper hiking gear, as some trails may have challenging terrain, but the reward is worth the effort with breathtaking vistas.
The fjords of Bergen are not just picturesque but also offer a sense of serenity and awe-inspiring natural beauty. Whether you explore them by boat, kayak, or on foot, the experience of being immersed in Bergen's scenic fjords is an unforgettable adventure that connects you with Norway's incredible natural heritage.
Exploring Bergen's Rich Cultural Heritage: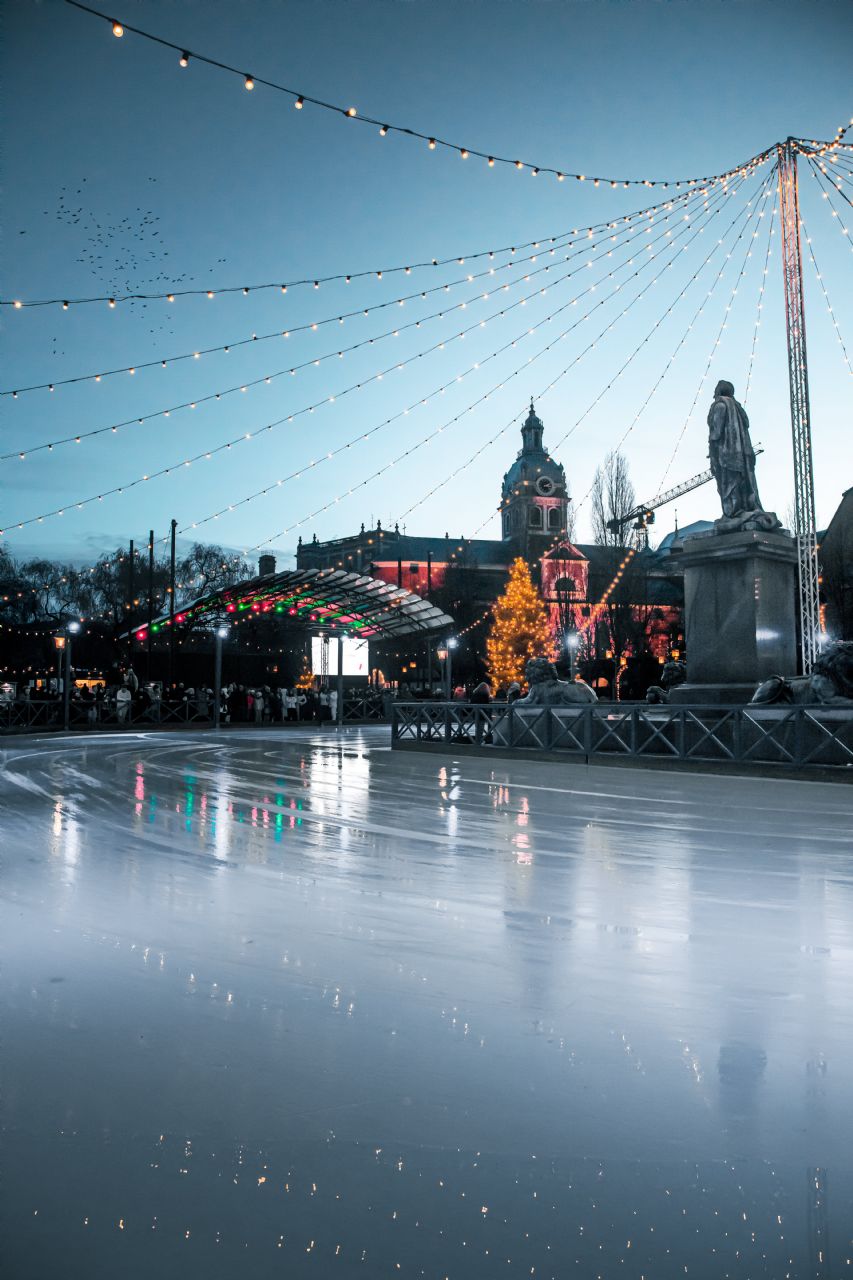 Bergen's history dates back to the Viking Age, and its cultural heritage is a testament to its enduring past. Explore Bryggen, a UNESCO World Heritage site, with its colorful wooden houses and cobbled streets. Visit the Hanseatic Museum and Schøtstuene to learn about Bergen's trading history. Don't miss the chance to see the historic Edvard Grieg Museum and Troldhaugen, the home of the famous composer.
Top Attractions in Bergen: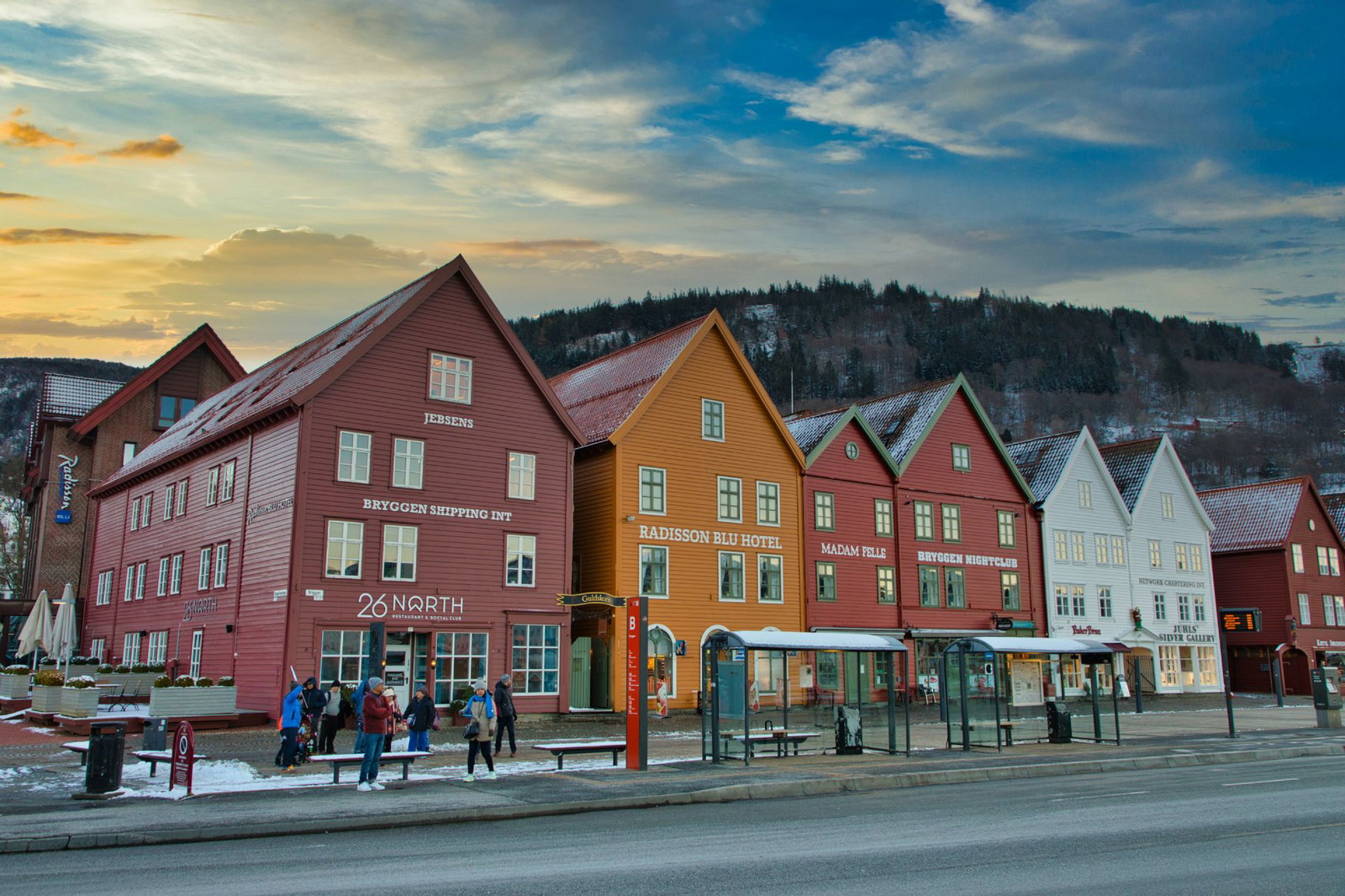 Bryggen:

Bryggen, a UNESCO World Heritage site, is one of Bergen's most iconic attractions. It consists of a row of colorful, historic wooden buildings along the waterfront.
These buildings date back to the Hanseatic period, serving as trading offices and storehouses. Today, they house shops, restaurants, and museums.
The Hanseatic Museum and Schøtstuene, located in Bryggen, offer a glimpse into the city's trading history, showcasing artifacts and the preserved interiors of the Hanseatic merchants' quarters.

Fløibanen Funicular:

Fløibanen is a funicular railway that takes you to the top of Mount Fløyen, offering panoramic views of Bergen and its surrounding fjords.
The funicular ride itself is a thrilling experience as it ascends through lush forests, and at the top, you'll find walking trails, a souvenir shop, and a restaurant.
Mount Fløyen is a popular spot for both tourists and locals, making it an excellent place for a hike or a leisurely stroll.

Bergenhus Fortress:

Bergenhus Fortress is a historic fortress complex that includes Rosenkrantz Tower, Haakon's Hall, and several other structures.
Haakon's Hall is a medieval banquet hall with an impressive timbered ceiling and is often used for events and exhibitions.
Rosenkrantz Tower, a well-preserved medieval tower, provides insight into the history of Bergen and its fortifications.

Norwegian Fisheries Museum:

Located in the neighborhood of Sandviken, the Norwegian Fisheries Museum highlights Norway's maritime heritage.
The museum exhibits various fishing vessels, equipment, and information about the fishing industry's development in Norway.
Visitors can explore the outdoor area, which features traditional boats and fishing huts.

KODE Art Museums:

KODE is a group of art museums and galleries in Bergen, showcasing a diverse range of art, from Norwegian classics to contemporary pieces.
KODE 1, 2, 3, and 4 display works by renowned artists like Edvard Munch, Nikolai Astrup, and J.C. Dahl.
These museums are located in beautiful historic buildings and offer an enriching cultural experience.

Bergen Aquarium:

Bergen Aquarium, located near the Nordnes Park, provides an educational and entertaining experience for visitors of all ages.
The aquarium features a variety of marine life, including fish, seals, penguins, and sea turtles.
There are interactive exhibits and informative presentations, making it a great place to learn about marine ecosystems.

Troldhaugen (Edvard Grieg Museum):

Troldhaugen is the former home of the renowned composer Edvard Grieg. It's located on the shores of Lake Nordås and surrounded by beautiful gardens.
Visitors can explore Grieg's villa, his composing hut, and the museum that celebrates his life and work.
The museum often hosts concerts and recitals, allowing you to enjoy Grieg's music in a picturesque setting.
These are just a few of the many attractions in Bergen. The city's history, culture, and natural beauty are seamlessly intertwined, offering a rich and immersive experience for travelers. Whether you're interested in history, art, or the great outdoors, Bergen has something to offer for everyone.
Outdoor Activities in Bergen:
For outdoor enthusiasts, Bergen offers a range of activities, from hiking in the surrounding mountains to fishing in the fjords. The Fløyen and Ulriken mountains are perfect for hiking, while cycling along the scenic coastline provides a unique perspective of the city.
Festivals and Events in Bergen:
Bergen is known for its vibrant cultural scene, with numerous festivals and events throughout the year. The Bergen International Festival, Bergen Food Festival, and Bergen International Film Festival are just a few of the events that showcase the city's creativity and diversity.
Bergen's Culinary Scene:
Indulge in the flavors of Bergen's culinary scene by trying traditional dishes like fish soup, klippfisk, and freshly caught seafood. Explore the local markets, such as the Fish Market (Fisketorget), for a taste of Bergen's gastronomic delights.
Best Viewpoints in Bergen: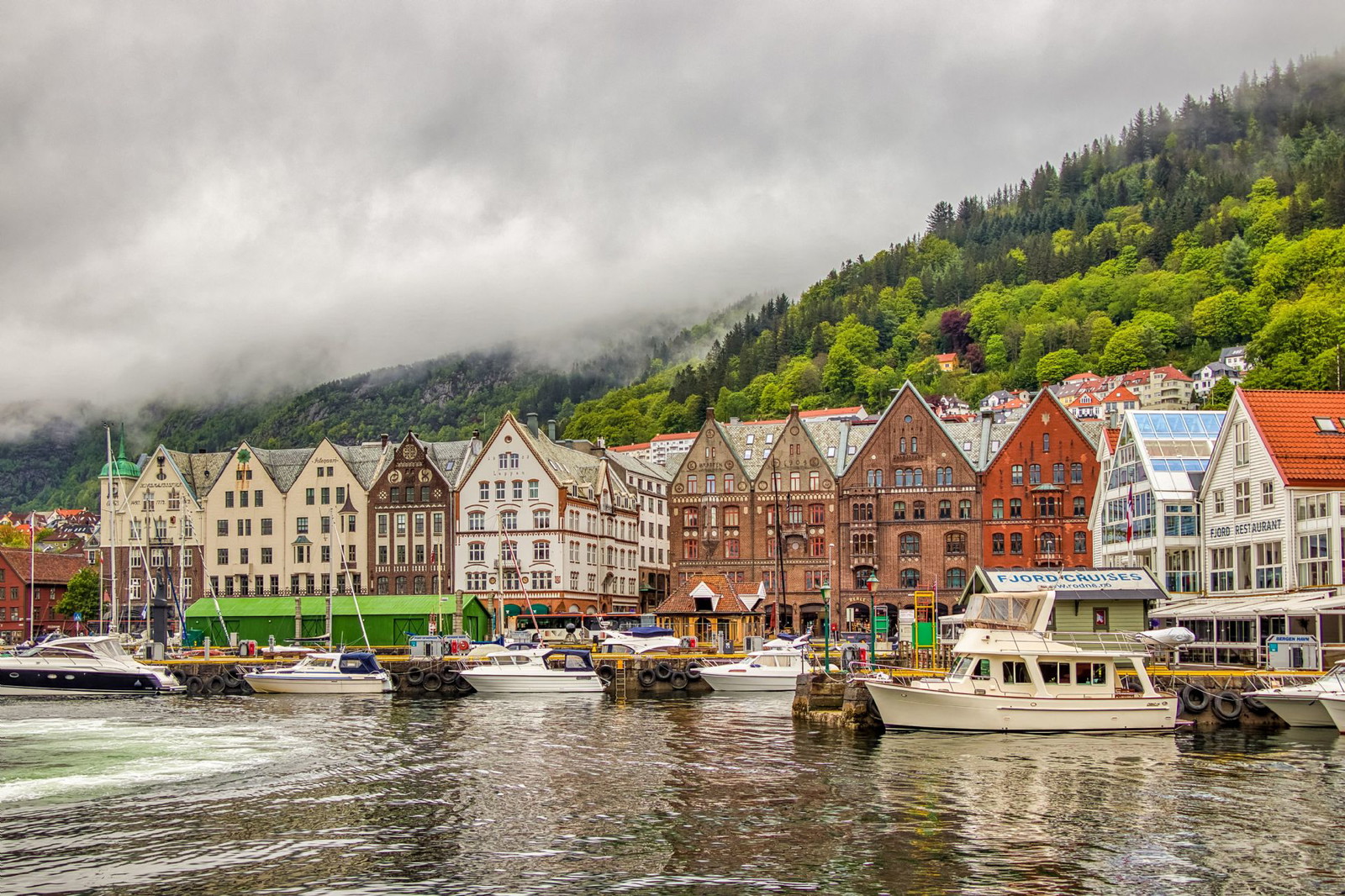 For the most awe-inspiring views of Bergen, head to Fløyen or Ulriken. You can take a funicular ride to the top of Fløyen, or hike up Ulriken for a more adventurous experience. The panoramas of the city and its surrounding fjords are truly mesmerizing.
Practical Tips for Visiting Bergen:
Before your trip, make sure you're prepared with practical tips, including information on currency, weather, transportation, and the Bergen Card, which offers discounts on attractions and public transport.
Bergen, Norway, is a city that seamlessly blends natural beauty with a rich cultural heritage. Whether you're captivated by the majestic fjords, immersed in the city's history, or savoring its delicious cuisine, Bergen promises an enchanting experience for every traveler. So, pack your bags and get ready to embark on a journey through this scenic gateway to Norwegian fjords and cultural treasures. Your adventure in Bergen awaits!