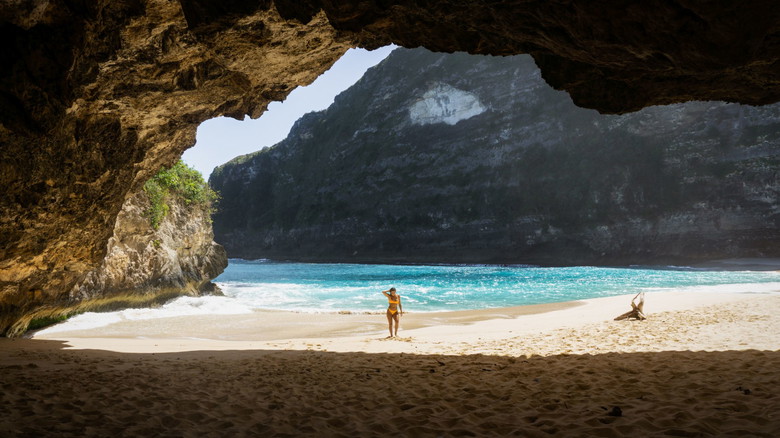 Discover Dream Beach - Nusa Ceningan, a serene tropical paradise nestled in Bali, Indonesia. Enjoy crystal-clear waters, powdery sands, and exhilarating activities. Surf the waves, snorkel vibrant reefs, and relax by the sea. Explore charming beach huts, boutique resorts, and eco-friendly retreats
Dream Beach is a hidden gem nestled on the idyllic island of Nusa Ceningan, located just off the southeast coast of Bali, Indonesia. With its mesmerizing beauty, crystal-clear turquoise waters, and powder-soft white sand, this beach is a true paradise for beach lovers and nature enthusiasts alike.
Dream Beach is located on Nusa Ceningan, one of the three Nusa Islands, situated off the southeast coast of Bali, Indonesia. Nusa Ceningan is part of the trio of Nusa Islands, along with Nusa Lembongan and Nusa Penida. Dream Beach is positioned on the southwestern coast of Nusa Ceningan, offering stunning views of the turquoise waters of the Indian Ocean.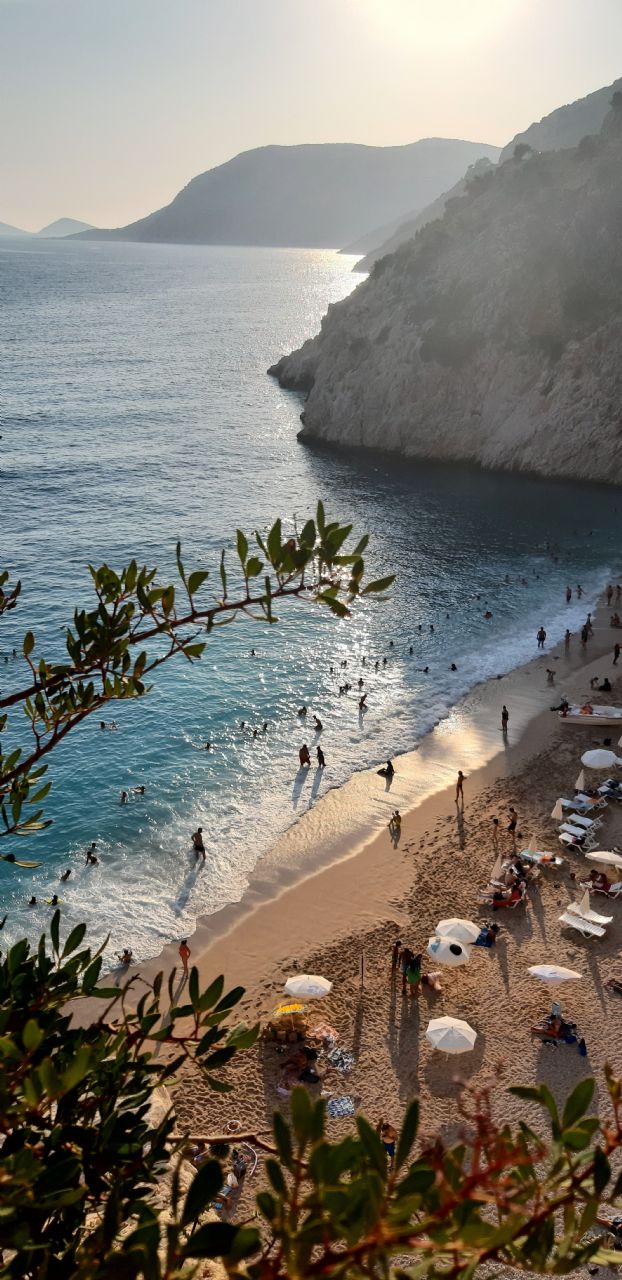 Transportation and How to Get to Nusa Ceningan:
To reach Nusa Ceningan, you'll first need to get to the main island of Bali. Bali's Ngurah Rai International Airport in Denpasar serves as the primary entry point for international travelers. From there, follow these three main steps to reach Nusa Ceningan:
a. Cross to Nusa Lembongan from Sanur or Padang Bai: Head to either Sanur or Padang Bai, both located on the eastern coast of Bali. Ferries operate regularly from these ports to Nusa Lembongan. The ferry ride typically takes about 30 minutes.
b. Cross the Yellow Suspension Bridge to Nusa Ceningan: Once you arrive at Nusa Lembongan, you can cross to Nusa Ceningan via the iconic yellow suspension bridge. The bridge connects Nusa Lembongan and Nusa Ceningan, allowing easy access between the two islands.
c. Arrive at Dream Beach: From the bridge, continue your journey to Dream Beach. It's a short and scenic ride to the southwestern coast of Nusa Ceningan, where you'll find the picturesque Dream Beach.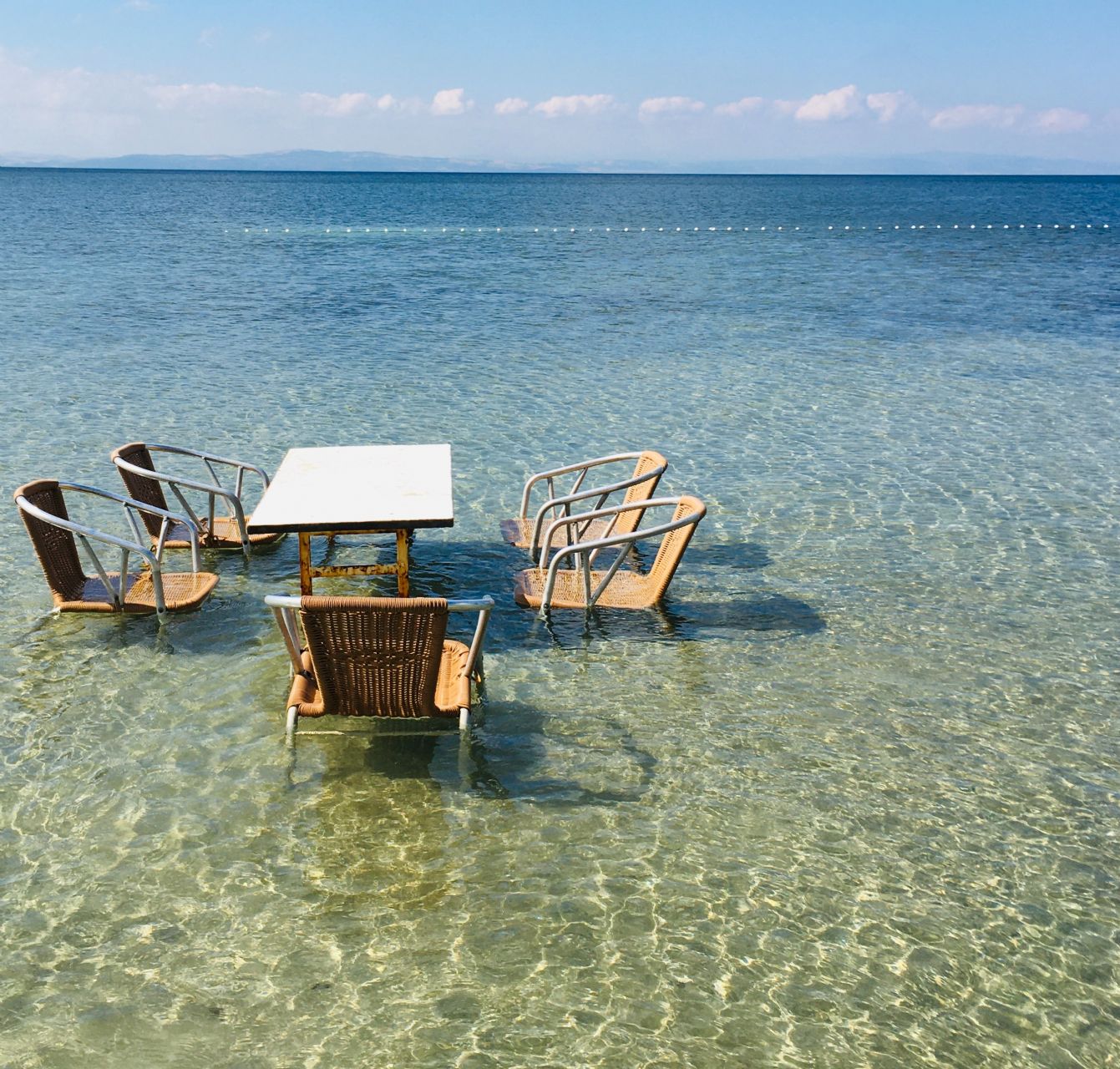 Activities and Adventure at Dream Beach - Nusa Ceningan:
Surfing: Dream Beach is known for its surf-friendly waves, attracting surfers of all levels. Whether you're a seasoned surfer or a beginner looking to catch your first wave, the beach offers suitable breaks for everyone. Surfboard rentals and surfing lessons are available from local surf shops to help you ride the waves like a pro.

Snorkeling and Scuba Diving: The crystal-clear waters surrounding Dream Beach are perfect for snorkeling and scuba diving adventures. Beneath the surface, you'll discover a vibrant underwater world teeming with colorful coral reefs and various marine species. Snorkeling gear and diving tours can be arranged at nearby dive centers.

Cliff Jumping: For adrenaline junkies, the rocky cliffs near Dream Beach provide an opportunity for exhilarating cliff jumping. While cliff jumping can be thrilling, it's essential to exercise caution and only jump from safe heights. There are different platforms and cliffs of varying heights for those seeking a daring leap into the ocean.

Beach Volleyball: Dream Beach's wide and sandy shoreline provides an excellent space for beach volleyball enthusiasts. Gather some fellow travelers or make new friends and engage in friendly matches under the sun. Beach volleyball is a fun way to stay active and enjoy the beach atmosphere.

Beachfront Yoga and Relaxation: The serene setting of Dream Beach makes it an ideal spot for yoga and relaxation. Many beachfront resorts and yoga studios offer yoga classes with breathtaking views of the ocean. Unwind, practice mindfulness, and rejuvenate your body and soul amidst the tranquil surroundings.

Boat Tours and Island Hopping: Explore more of the Nusa Islands and their beauty by taking a boat tour or going on an island-hopping adventure. Visit nearby Nusa Lembongan and Nusa Penida to discover their unique attractions, such as the iconic Kelingking Beach and Angel's Billabong.

Sunbathing and Beach Picnics: Of course, one of the best activities at Dream Beach is to simply relax and soak up the sun. Rent a beach lounger or lay out a beach towel on the soft sand, and indulge in a beach picnic with some delicious local snacks while enjoying the stunning views.
Dream Beach's stunning natural surroundings and adventurous activities make it a perfect destination for both thrill-seekers and those seeking tranquility. Whether you're surfing the waves, exploring underwater wonders, or simply unwinding by the shore, Dream Beach promises an unforgettable experience for all.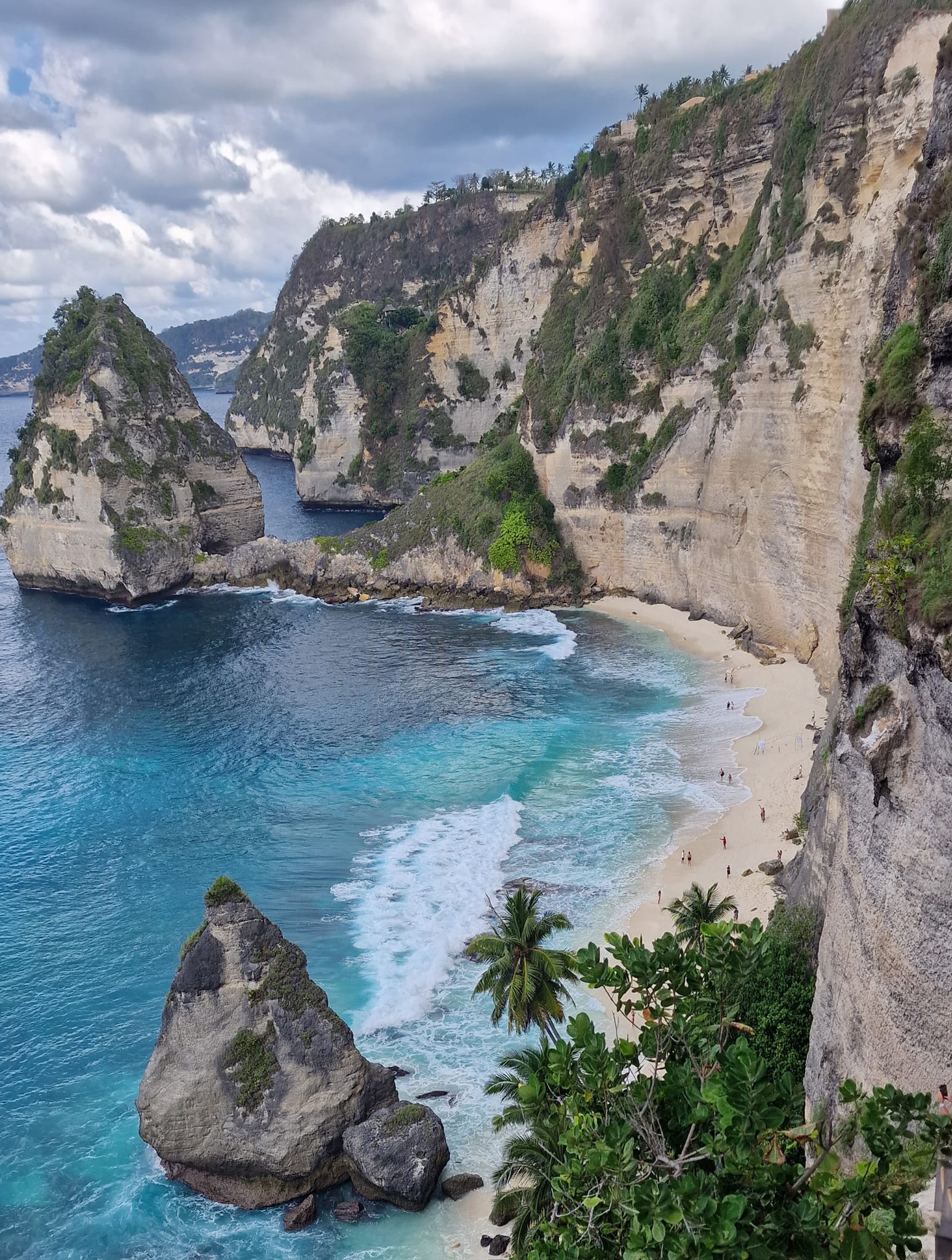 Dream Beach is home to the popular "Dream Beach Huts," a stylish beach club with comfortable sun loungers and bean bags, providing a perfect spot for sunbathing and sipping refreshing cocktails. The beach club also offers delicious local and international cuisine to indulge in during the day.
The allure of Dream Beach extends to the evenings, as the sunsets here are truly magical. Watching the sun dip below the horizon, painting the sky with hues of orange and pink, is an unforgettable experience that leaves visitors in awe of nature's wonders.
Dream Beach Huts: As the name suggests, Dream Beach Huts is a popular beachfront accommodation option offering rustic yet charming huts right on the beach. Wake up to the sound of waves and the breathtaking views of the ocean. The huts are equipped with essential amenities, providing a comfortable stay for guests. The on-site Dream Beach Club offers delicious meals and refreshing drinks, making it convenient for guests to relax and dine by the beach.

Secluded Cliffside Villas: For a luxurious and private experience, there are exclusive cliffside villas available near Dream Beach. These villas boast panoramic views of the Indian Ocean and come with upscale amenities such as private infinity pools, outdoor lounging areas, and personalized services. These villas provide an intimate escape for couples and honeymooners seeking tranquility and romance.

Boutique Beach Resorts: Nusa Ceningan is home to several boutique beach resorts, each offering a unique and personalized experience. These resorts typically feature beautifully designed rooms and bungalows with a mix of modern amenities and traditional Balinese touches. Some resorts have their private beach access, ensuring a serene and secluded stay.

Backpacker Hostels: Travelers on a budget will find backpacker hostels scattered around Nusa Ceningan. These hostels provide dormitory-style accommodation with shared facilities, creating a vibrant and social atmosphere for backpackers to connect and make friends. Many hostels also have communal areas where guests can relax, play games, or share travel stories.

Eco-Friendly Retreats: For eco-conscious travelers, there are eco-friendly retreats and eco-lodges available on the island. These accommodations focus on sustainability and environmental conservation while offering a unique stay amidst nature. Some eco-retreats may have traditional thatched-roof bungalows or bamboo structures, showcasing a blend of eco-design and comfort.

Homestays and Guesthouses: Experience the warmth of Balinese hospitality by staying in a local homestay or guesthouse. Hosted by local families, these accommodations provide insight into Balinese culture and traditions. Guests can immerse themselves in the local way of life and savor home-cooked Balinese meals.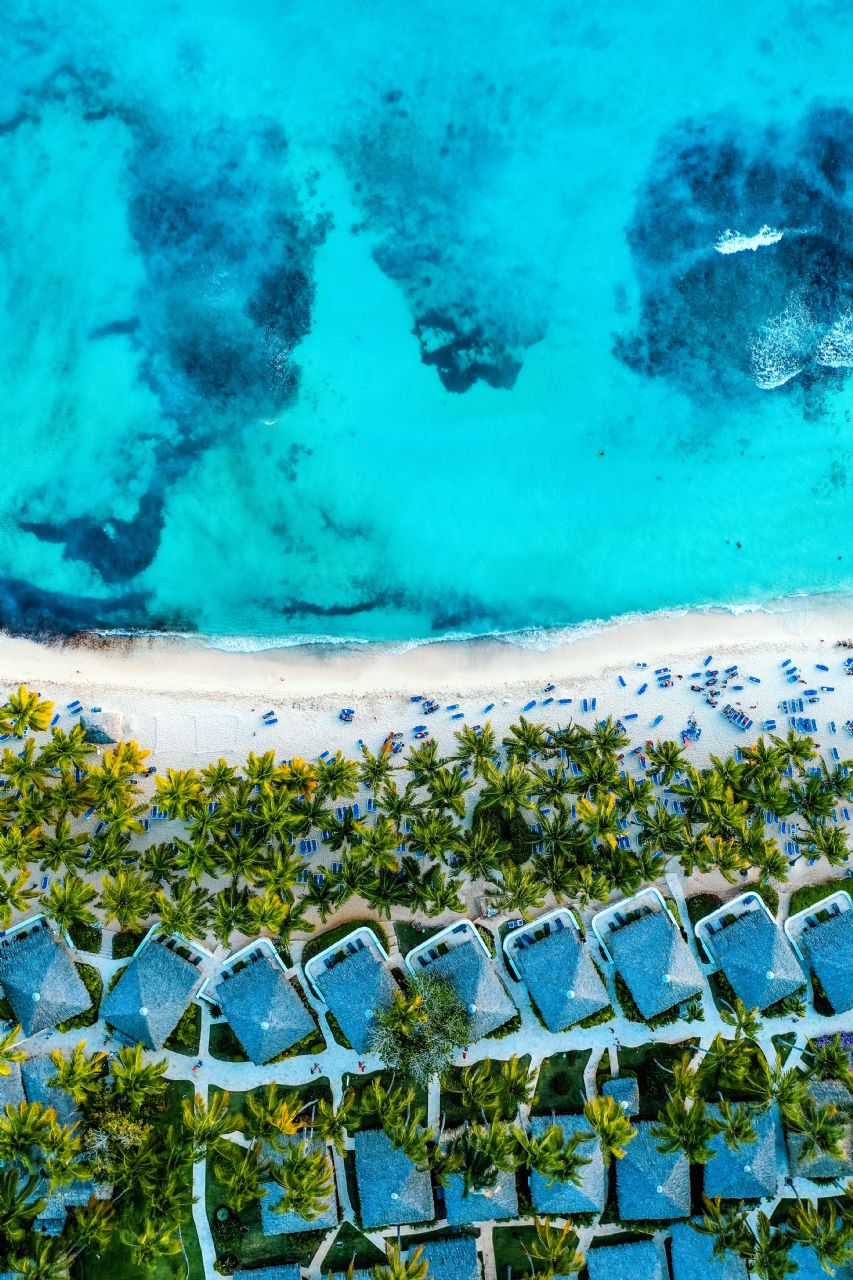 When choosing accommodation near Dream Beach, consider your preferences, budget, and travel style. Whether you seek a luxurious beachfront villa, a cozy beach hut, or a budget-friendly hostel, Nusa Ceningan offers a range of options to suit various tastes and needs. Booking in advance, especially during peak seasons, is recommended to secure your preferred accommodation and make the most of your dream getaway.
While visiting Dream Beach, it is essential for travelers to respect the natural beauty and local environment. Responsible tourism is key to preserving the pristine condition of this paradise for future generations to enjoy.
The best time to visit Dream Beach and Nusa Ceningan is during the dry season, which typically lasts from April to October. During this period, the weather is generally sunny, and the seas are calm, providing ideal conditions for swimming and enjoying outdoor activities.
Dream Beach, with its captivating beauty and tranquil ambiance, offers an unforgettable beach experience for travelers seeking a peaceful and scenic retreat away from the bustling crowds of Bali. So, if you're looking for a slice of paradise, don't miss the opportunity to explore Dream Beach on Nusa Ceningan.