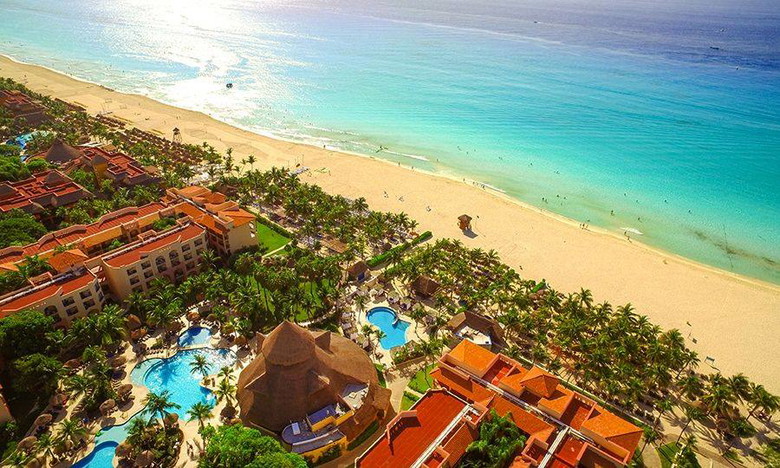 Playa del Carmen is renowned for its stunning beaches with powdery white sand and crystal-clear turquoise waters.
Whether you seek relaxation, water sports, or simply a picturesque setting, Playa del Carmen has a beach to suit your preferences. Here are some of the most beautiful beaches you can explore in this Mexican paradise:
Playa Mamitas: As one of the most popular and vibrant beaches in Playa del Carmen, Playa Mamitas attracts both locals and tourists. With its lively atmosphere, beach clubs, and DJ music, it is perfect for those seeking a fun and energetic beach experience. You can relax under colorful umbrellas, indulge in delicious cocktails, and enjoy various water sports activities.

Playa Norte: Located at the northern end of Playa del Carmen, Playa Norte is a more tranquil and less crowded option. Its serene ambiance makes it an ideal spot for relaxation and sunbathing. The clear waters make it great for swimming, and the beach is lined with palm trees, providing natural shade.

Playacar Beach: Situated in the upscale Playacar neighborhood, this beach offers a more secluded and serene atmosphere. Playacar Beach is known for its pristine shoreline, making it an excellent choice for long walks and watching breathtaking sunsets.

Xpu-Ha Beach: A short drive south of Playa del Carmen, Xpu-Ha Beach is a hidden gem with a more untouched and natural feel. This beach is ideal for those seeking a peaceful and picturesque escape, away from the bustling crowds. The shallow waters are perfect for swimming and snorkeling.

Akumal Beach: Located just a short distance from Playa del Carmen, Akumal Beach is famous for its resident sea turtles. Snorkeling in the shallow waters offers a chance to observe these gentle creatures in their natural habitat. It's a great spot for families and nature enthusiasts.

Maroma Beach: Often ranked among the world's best beaches, Maroma Beach is an idyllic stretch of coastline just a short drive from Playa del Carmen. The beach is framed by lush vegetation and offers a serene and luxurious setting with upscale resorts and facilities.

Paamul Beach: This small and tranquil beach is perfect for those seeking seclusion and privacy. Paamul Beach is known for its calm waters and coral reefs, making it an excellent spot for snorkeling and diving.

Punta Esmeralda: A local favorite, Punta Esmeralda is a public beach with a more laid-back atmosphere. It is an ideal place to experience the local culture and mingle with friendly locals.
Whether you're looking for excitement or tranquility, Playa del Carmen's beautiful beaches offer something for everyone. From water sports and vibrant beach clubs to peaceful sunbathing and snorkeling, these beaches are sure to create unforgettable memories during your visit to this tropical paradise.