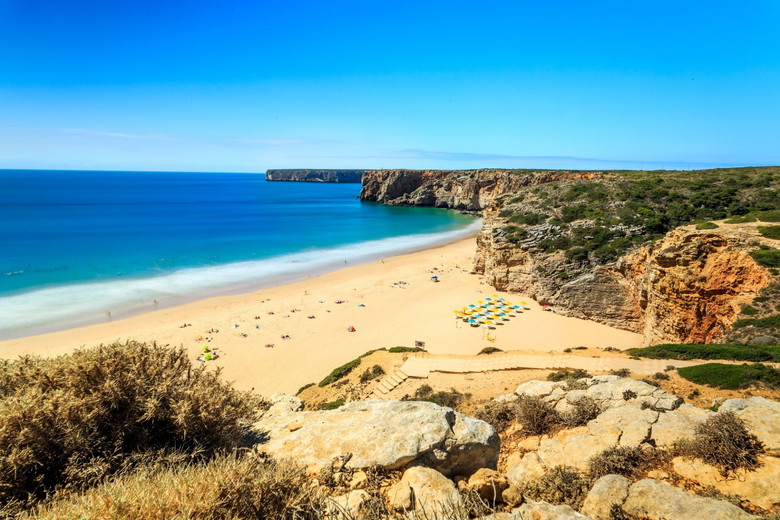 Praia da Marinha is a stunning hidden gem beach on the Algarve coast of Portugal. With its white sandy shores, crystal-clear waters, and unique natural rock formations, Praia da Marinha is the perfect getaway for travelers. Explore more about Praia da Marinha and plan your unforgettable beach experience on the Algarve coast
How to Get to Praia da Marinha
Located in the Algarve region of Portugal, Praia da Marinha is easily accessible. Here are some tips to guide you from the start of your journey to the beach:
By Air: The nearest major airport to Praia da Marinha is Faro International Airport (FAO). The distance from the airport to the beach is approximately 60 kilometers. To reach Praia da Marinha from the airport, you can opt for a taxi, private transfer, or car rental.

Car Rental: Renting a car is one of the best options for exploring the Algarve coastline. There are many car rental companies available at the airport and in the surrounding areas. By renting a car, you can freely explore the region and easily reach destinations like Praia da Marinha.

Public Transportation: Public transportation is also available to reach Praia da Marinha. There are bus and minibus services from airports and tourist areas to the beach. However, be mindful that public transportation schedules may be limited, so plan your journey carefully.

Taxi and Transfer Services: Taxis and private transfer services from airports to Praia da Marinha are readily available and can provide faster and more comfortable transportation options.
Google Maps Link: Praia da Marinha on Google Maps
Are you ready to set out on an adventure to discover the breathtaking views of Praia da Marinha? Visit this hidden paradise along the Algarve coast and create unforgettable memories.
The natural beauty of Marinha Beach
Praia da Marinha, often regarded as one of Portugal's hidden gems, is a stunning beach located on the Algarve coast. It is renowned for its pristine natural beauty, captivating cliffs, and crystal-clear waters. As you set foot on this paradisiacal stretch of coastline, you'll be spellbound by the sheer beauty that surrounds you.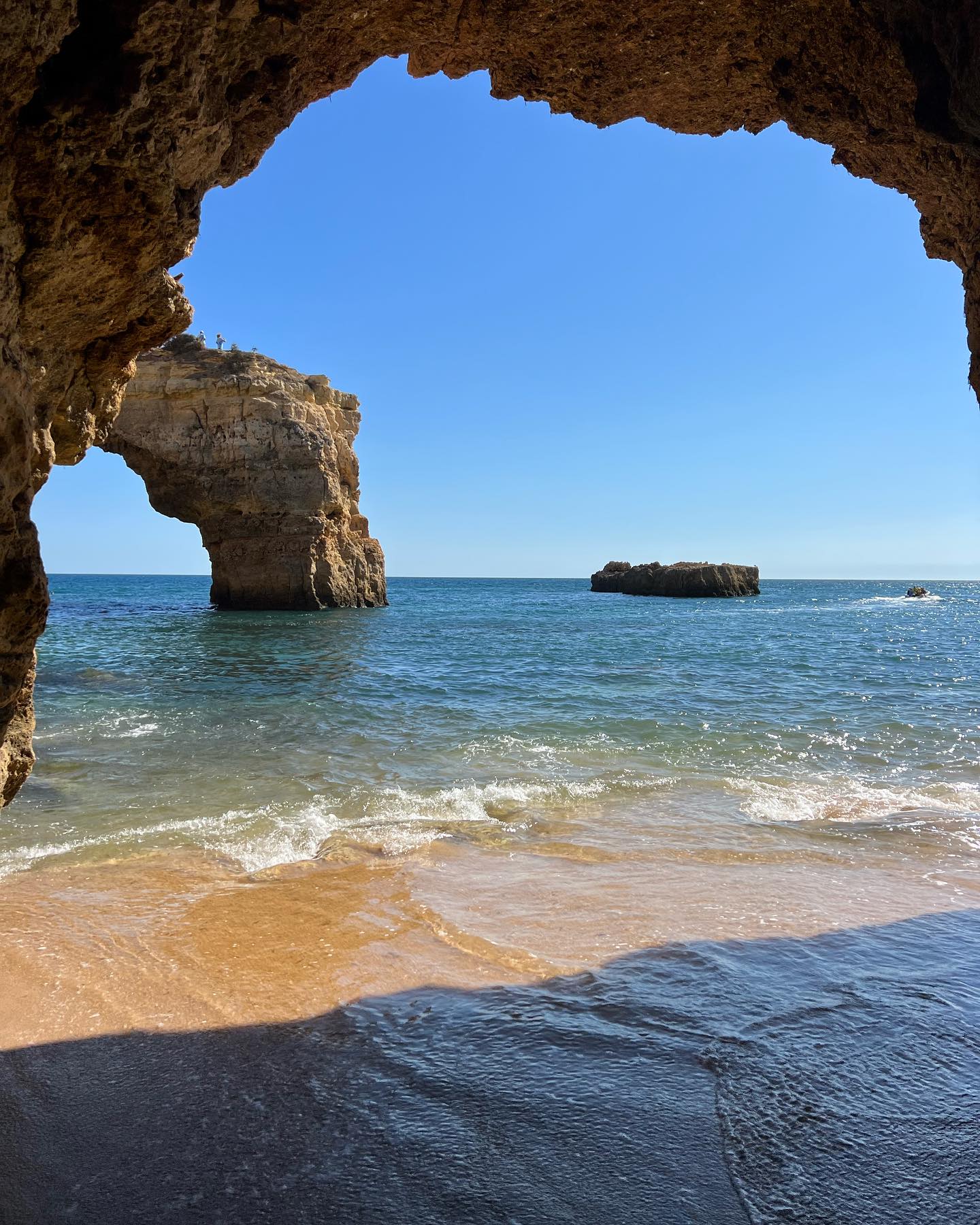 Geographical features of Marinha Beach
Marinha Beach boasts a unique and dramatic landscape. Towering limestone cliffs, sculpted by centuries of erosion, stand sentinel along the shoreline, creating a breathtaking backdrop for beachgoers. These cliffs form arches, caves, and grottoes, adding an element of mystery to the beach. The turquoise waters of the Atlantic Ocean gently caress the golden sandy shore, inviting you to take a dip or go snorkeling.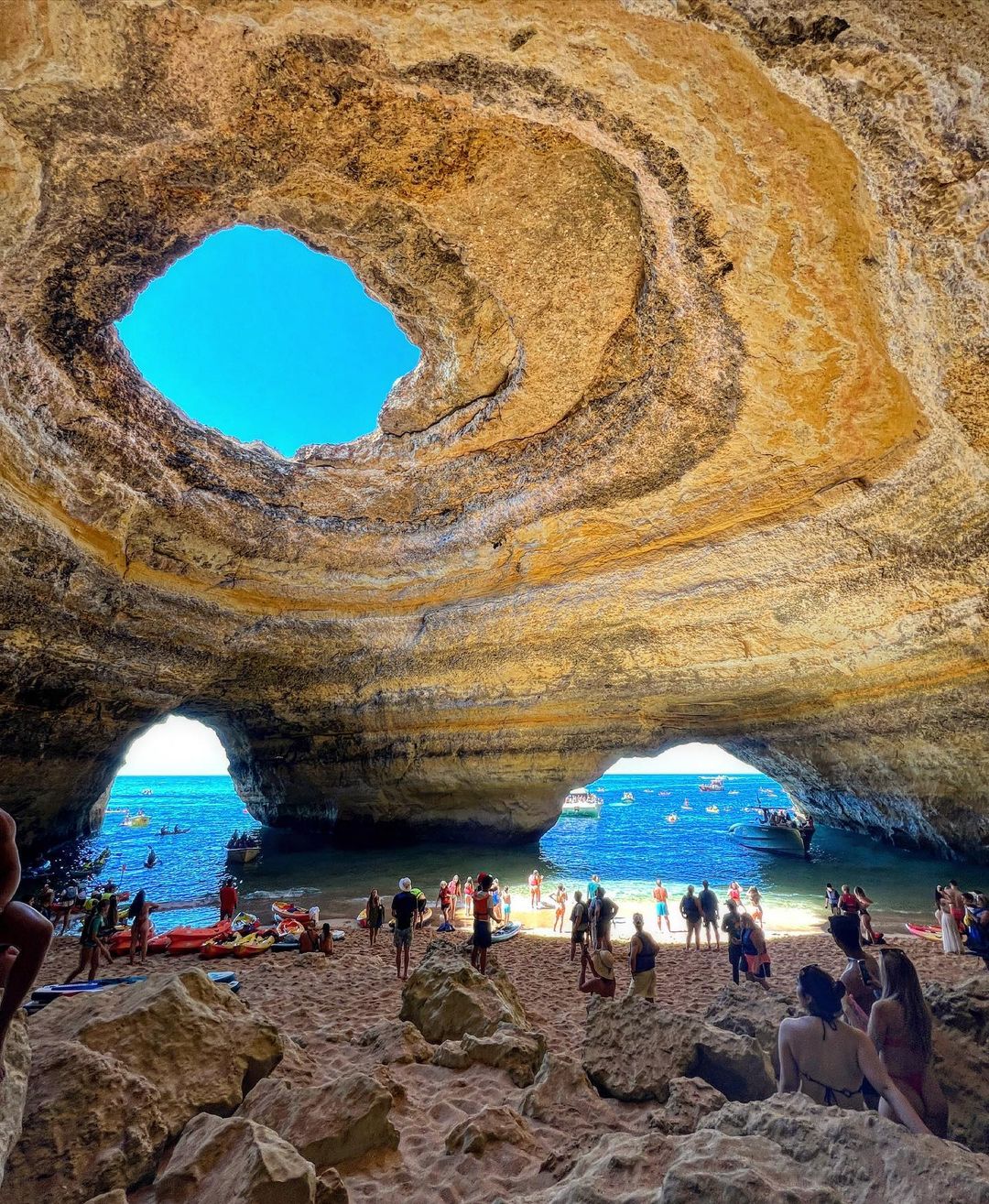 Flora and fauna at Marinha Beach
The beach is not just a feast for the eyes; it's a haven for nature enthusiasts. The Algarve region's Mediterranean climate supports a diverse range of flora and fauna. On your visit to Marinha Beach, you may encounter vibrant wildflowers, aromatic herbs, and unique coastal plants. Birdwatchers will delight in spotting various seabirds, including gulls and cormorants, while lucky visitors may even spot dolphins frolicking in the distance.
Activities and attractions at Marinha Beach
Marinha Beach offers a multitude of activities to suit all tastes. Sunbathing and swimming are top choices, thanks to the pleasant climate and inviting waters. Snorkeling and scuba diving are also popular, allowing you to explore the underwater world and discover the marine life beneath the waves. Hiking along the cliffside trails offers breathtaking panoramic views of the coastline, and photographers will find endless opportunities for capturing the beauty of Marinha Beach.
Best time to visit Marinha Beach
The ideal time to experience Marinha Beach's splendor is during the spring and summer months. From May to September, the weather is warm and dry, making it perfect for beach activities. To avoid the crowds, consider visiting during the shoulder seasons of late spring or early autumn when the temperatures are still pleasant.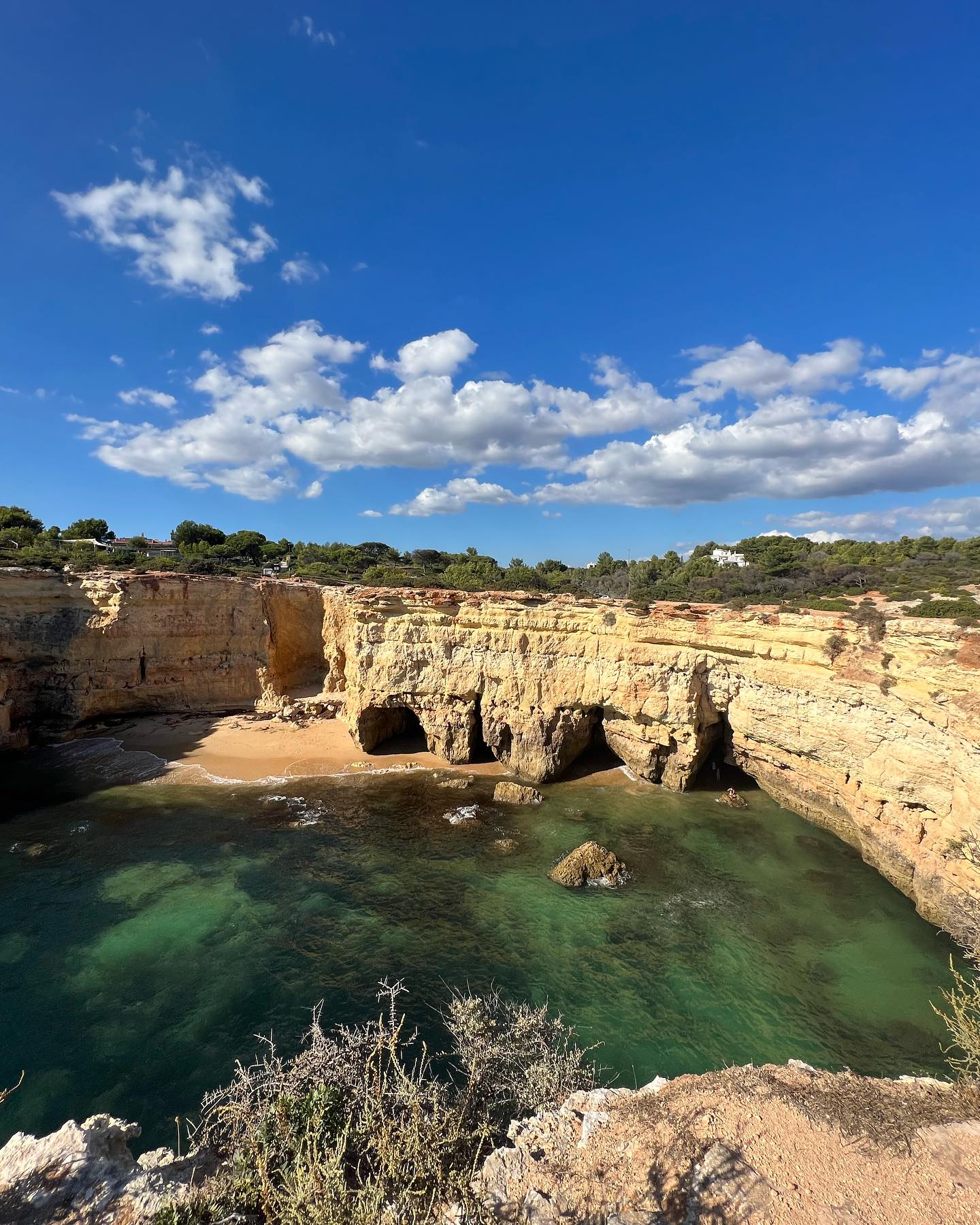 How to get to Marinha Beach
To reach Marinha Beach, you can fly into Faro Airport, which is the nearest major airport. From there, it's a scenic drive along the coastal roads to the beach. Alternatively, you can take a bus or hire a car for more flexibility. Once you arrive in the vicinity, follow the signs to the beach, and you'll find ample parking facilities.
Accommodation options near Marinha Beach
While there are no accommodations directly on Marinha Beach, you'll find a wide range of lodging options in the nearby towns of Albufeira, Carvoeiro, and Lagos. These towns offer everything from luxury resorts and boutique hotels to budget-friendly guesthouses and vacation rentals. Staying in one of these towns will give you the opportunity to explore the Algarve region further.
Tips for visiting Marinha Beach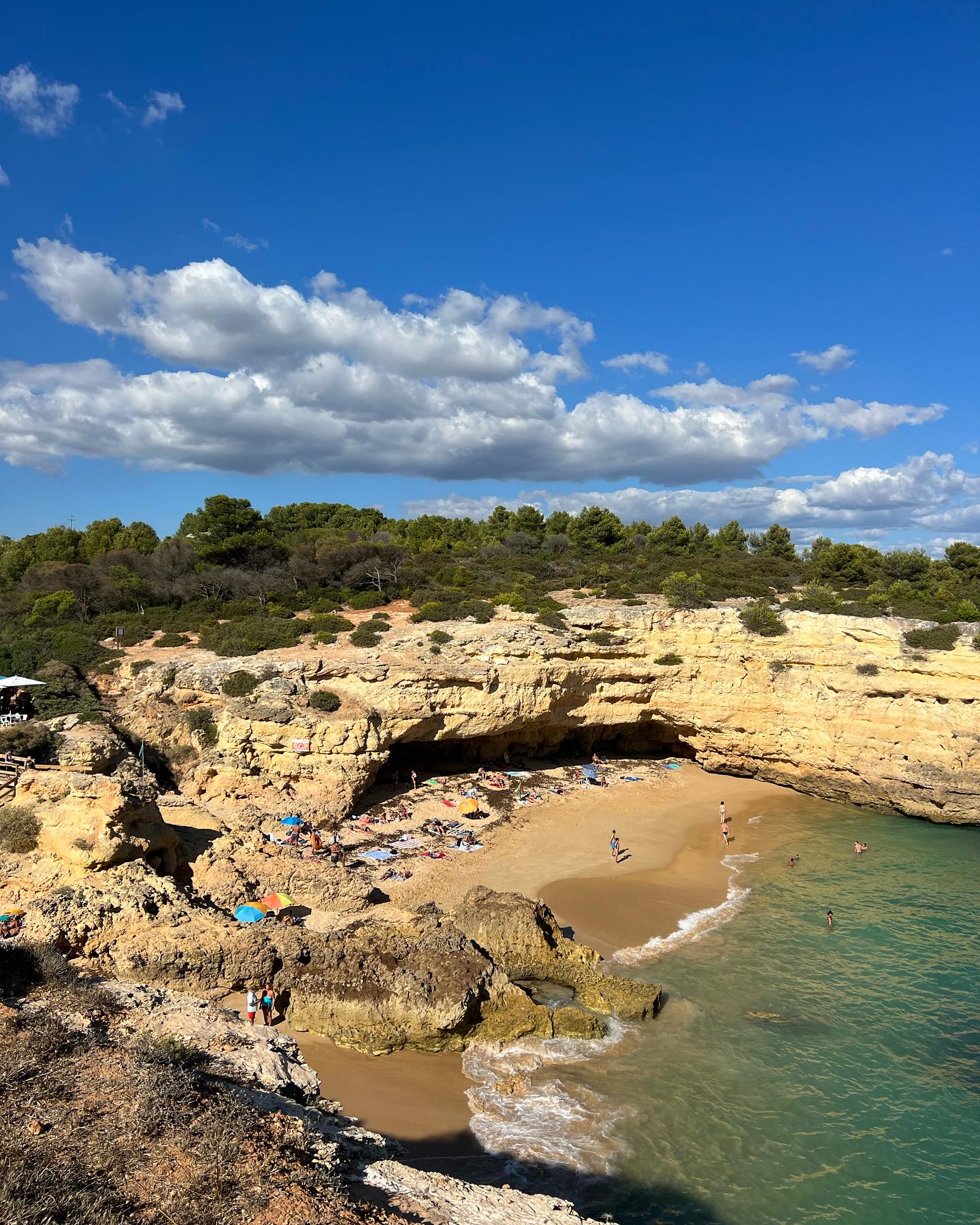 Bring sunscreen and plenty of water, as the sun can be quite strong during the summer months.
Wear comfortable footwear for hiking along the cliffside trails.
Check the tides before heading into the caves and grottoes to ensure safety.
Respect the natural environment by not leaving any litter behind and refraining from touching or disturbing wildlife.
Experience the breathtaking beauty of Marinha Beach
In conclusion, Praia da Marinha is a coastal paradise that beckons travelers with its natural wonders. Its stunning geographical features, rich flora and fauna, and a wide range of activities make it a must-visit destination for nature lovers and beach enthusiasts alike. Whether you're seeking relaxation, adventure, or the perfect Instagram shot, Marinha Beach has it all, ensuring an unforgettable experience in Portugal's Algarve region. So, pack your bags and get ready to immerse yourself in the breathtaking beauty of Marinha Beach.